Alaska River Guide: Canoeing, Kayaking, and Rafting in the Last Frontier (Paperback)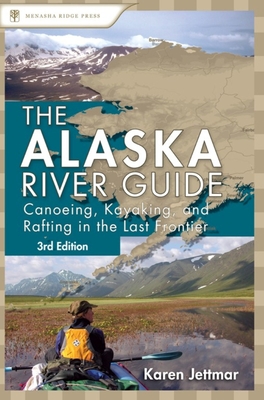 Description
---
EXPLORE HIDDEN ALASKA
The Alaska River Guide is the premier guide to Alaskan paddling. It combines detailed river maps, photographs, and crucial at-a-glance information to provide you with the knowledge needed to plan a successful Alaska river trip.
The book also highlights
cautions and river hazards
prime paddling season
directions to river-access points
summaries of fish and wildlife
The rich tapestry of Alaska is threaded together by 365,000 miles of waterways, from cascading mountain streams to meandering valley rivers, from the meltwaters of glaciers to broad rivers that empty into the sea. These waterways run deep in the fabric of Alaskan life, providing means of communication, nutrition, and transport for plants, animals, and people.
The Alaska River Guide provides enough information to help you prepare for your trip without spoiling the wonders and discoveries waiting for you out on the water.
PRAISE FOR PREVIOUS EDITION
"This is dream material. Imagine canoeing the North Fork of the Koyukuk. You can put in near Mount Doonerak . . . and drift through the Gates of the Arctic National Park. The Alaska River Guide will make you want to do it."
--Fairbanks Daily News-Miner
"This book, by Karen Jettmar, will help to preserve Alaska's precious natural heritage.
--President Jimmy Carter
About the Author
---
Karen Jettmar learned to paddle and row on the placid waters of the Severn River in Maryland. Since then, she has paddled all over Alaska and the world. A 30-year Alaskan, she has combined a passion for the earth's wild places with writing, photography, and a life in the outdoors. She worked as a backcountry ranger in several of Alaska's premier national parks, taught school in rural Native communities, and was Assistant Regional Director for The Wilderness Society.Karen loves water in its many forms. When liquid turns to ice and snow, and the boats and paddles go into storage, she is often found gliding on skinny skis on forest trails, or on fat skis in the backcountry mountains.She directs Equinox Wilderness Expeditions (www.equinox expeditions.com), an adventure- travel company that specializes in taking small groups to explore Alaska's wild rivers, coasts, and mountains. Also an award-winning writer/photographer, she has published feature articles and photos in many books and periodicals, including National Geographic, USA Today, Newsweek, National Parks and Conservation, and National Wildlife. She is the author of Alaska's Glacier Bay: A Traveler's Guide. Her essays appear in a number of books, among them: Hell's Half Mile: River Runners' Tales of Adventure and Hilarity, A Road of Her Own: Women's Journeys in the West, This Last Treasure: Alaska National Parklands, Travelers' Tales: Alaska, and Crosscurrents North: Alaskans on the Environment. She lives in Anchorage.