The Adventures of Chas from Tas: Renegades at Sea (Paperback)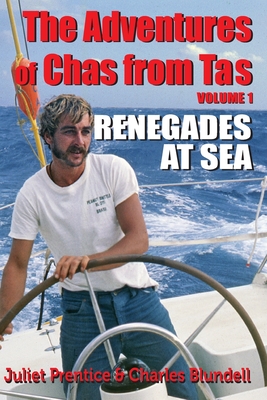 $22.00
Usually Ships in 2-3 Days
Description
---
Thrown into freezing Southern Ocean waters on a stormy, moonless night as a boy Chas from Tas survived and was fated to live a life of adventure as a renegade at sea.
Swearing never to take an ordinary job, it's a promise he has kept, voyaging more miles than to the moon one and a half times and back. He has not lived in one country for more than six months for the last forty years, carries his worldly possessions in three small sea bags, takes on missions no man in his right mind would consider, has been searching for Captain Kidd's lost treasure for twenty-five years, survived typhoons and sinking yachts and drunk half the bars in the known world dry.
A living legend at sea and an unmitigated disaster on land, his deeply lined, craggy face makes Keith Richards look like Doris Day.
Unrepentantly Australian and piratical a sea dog as you'll ever meet, this is the first volume of much requested memoirs - the roller-coaster begins and adventure is at the heart of it.
Reviews:
"People say you don't find characters today the way you used to. Well, Chas from Tas proves they still exist. The most amusing storyteller from his own experiences and telling them in a way that always brings a grin to one's face". Sir Robin Knox Johnston.
"Shipwrecked Marooned .......I know from personal experience that sailing with Chas from Tas can be a dangerous undertaking. If you want to experience the thrill of it all without risk to your life read this book now " Simon Le Bon.
"Renegades at Sea is chock-a-block with the kind of hilarious and hair-raising experiences that provoke either gales of laughter or head-shaking incredulity. Chas from Tas is a one-off original. There is no one else quite like him and there probably never will be again. Which is a very good reason to buy this splendid book". Bruce Stannard, journalist.
"What never ceases is the string of stories delightfully regaled. 'Renegades at Sea', volume one of this trio, kept me glued to the pages" Bob Fisher, Yachts & Yachting.