The Heroine of Cameron Dam: The Annotated 1929 Memoir of Myra Dietz (Paperback)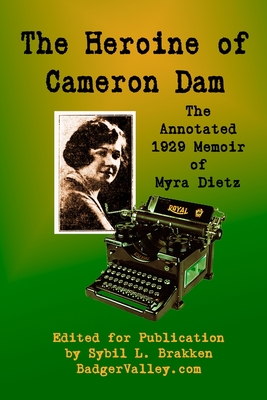 $17.99
Usually Ships in 2-3 Days
Description
---
The Heroine of Cameron Dam
Decades ago, a vagabond searching through trash outside a Los Angeles publisher's office found a rejected 1929 manuscript. The author, Myra Dietz, wrote it 19 years after she, her brother, and father, were severely wounded by gun-toting thugs who served powerful Midwest lumber barons. News of the Winter, Wisconsin, shootings went nationwide in 1910 and the John Dietz family came to be regarded as national heroes.
But by 1929, Myra's memoir sounded like old news to publishers. Then came the Great Depression and an economy unfavorable to publishing new authors.
Now, nearly a century after her memoir vanished, the recollections of a young woman caught in the middle of a collision between her steadfast father and the wealthiest-ever lumber baron, Frederick Weyerhaeuser, are finally in print. Learn what happened on the Thornapple River from Myra's own words.
The Heroine of Cameron Dam ...
... is Myra's personal recollection of events leading up to and following the 1910 attack on her family's farm by scores of armed woodsmen.
... exposes the graft and corruption that dominated most lumber company towns in 1910.
... illuminates both the pleasure and hardship of living on a Northern Wisconsin farm at the turn of the last century.
... was prepared for publication by Sybil L. Brakken and is available from BadgerValley.com along with Thornapple Girl, James Brakken's fact-based novel about Myra Dietz and her father's stand against the lumber trust.