Run for Your Life: How to Run, Walk, and Move Without Pain or Injury and Achieve a Sense of Well-Being and Joy (Hardcover)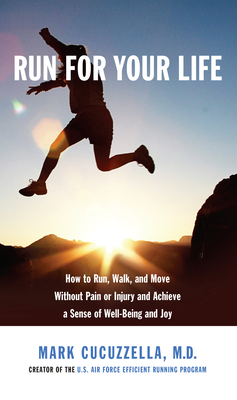 Description
---
The first running book by a leading pioneering running doctor and athlete, creator of the Air Force's Efficient Running program--the result of more than three decades of study, practice, and science that shows us in clearly illustrated and accessible text how easy it is to run efficiently and injury-free, whether you're in your twenties, sixties, or seventies--for beginning runners and experienced marathoners.

In Run for Your Life, Dr. Mark Cucuzzella explains the simple mechanics of how our bodies have evolved and adapted to run. Despite our natural ability and our human need to run, each year more than half of all runners suffer injuries. Pain and discouragement inevitably follow. Cucuzzella's book outlines the proven, practical techniques to avoid injury and reach the goal of personal fitness and overall health.
     His book--the first running book to be written by a professor of medicine with the credibility of the Air Force behind him--gives us a straightforward, easy-to-follow look at the anatomy, biomechanics, nutrition, and/or clinical medicine with clear drawings and black-and-white photographs. The book provides illustrated exercises designed to teach healthy running, along with simple progressions, a weekly/monthly schedule detailing common mistakes, and cautions that allow the reader to tailor the training regime to individual needs and abilities. With an annotated list of videos and other innovative, book-Internet links.
     The proceeds from RUN FOR YOUR LIFE will go to support Mark Cucuzzella's community work through his non-profit organization, Eastern Area Health Education Center/Freedoms Run.
About the Author
---
DR. MARK CUCUZZELLA, Air Force Reserve lieutenant colonel, practices family medicine in Ranson and Martinsburg, West Virginia. He is a professor at West Virginia University School of Medicine, and conducts Healthy Running Medical Education courses. He has run competitively for almost four decades, with more than one hundred marathon and ultramarathon finishes, and he continues to compete as a national-level Masters runner with an active streak of thirty straight years under a 3-hour marathon. Cucuzzella owns the first minimalist running and walking store, Two Rivers Treads, in his hometown. He has also been named a Distinguished Mountaineer by the governor of West Virginia, a Blue Ridge Outdoors Pioneer, Air Force Athlete of the Year, his home county's Citizen of the Year, Boys and Girls Club of American Champion for Youth, and Colorado Academy of Family Physicians' Teacher of the Year.
Praise For…
---
"This book offers something special for readers at nearly every level of physical activity." 
—Booklist (starred review)

"Cucuzzella, a physician, offers readers a path to health and a sense of well-being in this detailed fitness guide."
—Publishers Weekly

"When Mark Cucuzzella talks about running, savvy runners listen."
—The National Book Review

"A fantastic repositioning of how to run, and of what makes running fun and healthy (they can be one and the same). True to the Hippocratic oath, Dr. Mark Cucuzzella takes back the paradigm of running that has been fostered by major shoe companies and mass media, and he recalibrates it with the runner's best interests at heart." 
—Joe Puleo, coach of the Marine Corps Running Team and author of Running Anatomy

"The principles outlined in this book were transformational. Not only did I run faster and better, but I was able to complete my third marathon pain-free. Most important, I felt the joy of running, and that's the type of joy anyone who runs—either around the block or a hundred miles—should have the chance to feel. Reading Dr. Cucuzzella's book will help you get there."
—Mike Plunkett, MisFits columnist, The Washington Post

"Dr. Cucuzzella has long been a leading mind when it comes to healthy running and healthy living. He understands the comprehensive physiology behind the simple act of running, but he has also mastered the art of applying both science and passion to help runners understand how to maximize their strength, endurance, fitness, and enjoyment in a healthy, sustainable way. He's an authentic source of information and enthusiasm amid a turbulent sea of flashy trends and biased product marketers. I expect Run for Your Life to become one of the leading running books of this era and to serve as a guiding light to runners of all abilities." 
—Brian Metzler, former editor in chief, Competitor magazine; founding editor, Trail Runner magazine; co-author of Natural Running and Run Like a Champion

"Beginner. Intermediate. Advanced. Runners of all ages and abilities will advance their knowledge just by getting this book in their hands. Runners will not want to put this book down." 
—Rod Dixon, Olympic medalist, two-time World Cross Country Championships medalist, and New York City Marathon champion