Richard III: England's Most Controversial King (Hardcover)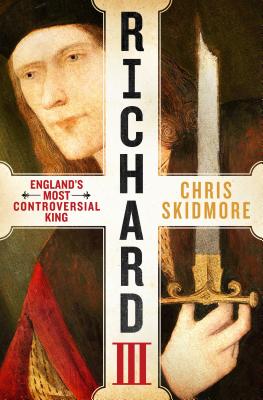 Description
---
From acclaimed historian Chris Skidmore comes the authoritative biography of Richard III, England's most controversial king, a man alternately praised as a saint and cursed as a villain.
Richard III is one of English history's best known and least understood monarchs. Immortalized by Shakespeare as a hunchbacked murderer, the discovery in 2012 of his skeleton in a Leicester parking lot re-ignited debate over the true character of England's most controversial king.
Richard was born into an age of brutality, when civil war gripped the land and the Yorkist dynasty clung to the crown with their fingertips. Was he really a power-crazed monster who killed his nephews, or the victim of the first political smear campaign conducted by the Tudors?
In the first full biography of Richard III for fifty years, Chris Skidmore draws on new manuscript evidence to reassess Richard's life and times. Richard III examines in intense detail Richard's inner nature and his complex relations with those around him to unravel the mystery of the last English monarch to die on the battlefield.
About the Author
---
Chris Skidmore was born in Bristol, England in 1981. He is the author of Edward VI: The Lost King of England and Death and the Virgin Queen: Elizabeth I and the Dark Scandal That Rocked the Throne. He taught history at Bristol University is a Fellow of the Royal Historical Society. In 2010 he was elected as a British Member of Parliament.
Praise For…
---
"This highly readable chronicle comprises vaulting ambition, familial betrayal, moral corruption, high politics, foul murder and a beautiful queen lusting for revenge. Shakespeare can hardly be blamed for a little exaggeration." —Wall Street Journal

"A bold and fresh new biography of one of the most enduringly fascinating monarchs in all of British history, steeped in the latest research and majestically narrated." —Dan Jones, award-winning historian and bestselling author of The Plantagenets

"Thrillingly paced, meticulously researched, refreshingly free of psychological speculations, Skidmore's supremely insightful biography is a joy to read." —John Guy, award-winning historian and bestselling author of Queen of Scots

"[Skidmore's] portrayal of Richard is balanced; his narrative detailed and engaging. For those familiar with Richard's life, this will be a refreshing read; for those not, this will be an excellent introduction."—Historical Novel Society
"Sharp writing and a marvelously exhaustive command of contemporary documentary sources ... In the author's hands, there's no lack of thrilling details in Richard's saga ... [Skidmore's] biography bids fair to become the definitive account for the 21st century." —Washington Independent Review of Books
"Exhaustively researched, scrupulously evenhanded and a genuinely fresh approach to one of the most ploughed-over and controversial reigns in English history. . . . a detailed and persuasive narrative of what Richard actually did—and, at least as importantly, what he was thought to have done." —David Starkey
"A gripping, vivid, fresh portrait of Richard III who is not just chilling, ruthless, and terrifying, but also a practical politician in a brutal age — a man of his time." —Simon Sebag Montefiore
"With forensic detail, Skidmore looks at sources as well as rumors to build a picture of the last Plantagenet monarch, who took murderous decisions in life; but died a hero." —Philippa Gregory
"A portrait that chills you to the bone." —The Times of London