No Barriers: A Blind Man's Journey to Kayak the Grand Canyon (Paperback)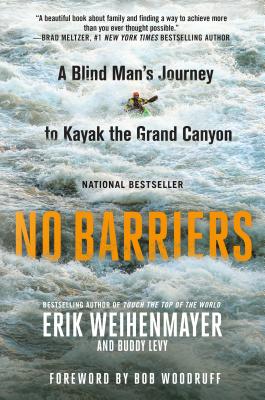 Description
---
2018 Colorado Book Awards finalist in the Creative Nonfiction and National Bestseller and Honorable Mention Award Winner in the Outdoor Literature category of the 2017 National Outdoor Book Awards (NOBA) — "A beautiful book about family and finding a way to achieve more than you ever thought possible." —Brad Meltzer, New York Times bestselling author
Erik Weihenmayer is the first and only blind person to summit Mount Everest, the highest point on Earth. Descending carefully, he and his team picked their way across deep crevasses and through the deadly Khumbu Icefall; when the mountain was finally behind him, Erik knew he was going to live. His expedition leader slapped him on the back and said something that would affect the course of Erik's life: "Don't make Everest the greatest thing you ever do."
No Barriers is Erik's response to that challenge. It is the moving story of his journey since descending Mount Everest: from leading expeditions around the world with blind Tibetan teenagers to helping injured soldiers climb their way home from war, from adopting a son from Nepal to facing the most terrifying reach of his life: to solo kayak the thunderous whitewater of the Grand Canyon.
Along the course of Erik's journey, he meets other trailblazers—adventurers, scientists, artists, and activists—who, despite trauma, hardship, and loss, have broken through barriers of their own. These pioneers show Erik surprising ways forward that surpass logic and defy traditional thinking.
Like the rapids of the Grand Canyon, created by inexorable forces far beneath the surface, No Barriers is a dive into the heart and mind at the core of the turbulent human experience. It is an exploration of the light that burns in all of us, the obstacles that threaten to extinguish that light, and the treacherous ascent towards growth and rebirth.
About the Author
---
ERIK WEIHENMAYER is an athlete, adventurer, author, activist and motivational speaker, and the only blind person to reach the summit of Mount Everest. He also completed the Seven Summits, joining 150 mountaineers who had accomplished that feat, but the only climber who was blind. He is the bestselling author of Touch the Top of the World and The Adversity Advantage. Weihenmayer co-founded No Barriers USA, which helps those with special challenges to live active and purposeful lives. He lives in Colorado.

BUDDY LEVY is a journalist, speaker, and the author of numerous books, including Conquistador: Hernan Cortes, King Montezuma, and the Last Stand of the Aztecs; River of Darkness: Francisco Orellana's Voyage of Death and Discovery Down the Amazon;Geronimo: Leadership Strategies of an American Warrior (with Mike Leach); and American Legend: The Real-Life Adventures of David Crockett. He was a cast member in all 24-episodes of HISTORY's Brad Meltzer's DECODED television series. He teaches writing at Washington State University. He lives in Idaho.