The Inquisition: Summoner: Book Two (The Summoner Trilogy #2) (Paperback)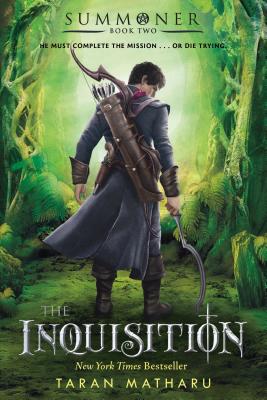 Other Books in Series
This is book number 2 in the The Summoner Trilogy series.
Description
---
Second in Taran Matharu's New York Times bestselling epic fantasy Summoner Trilogy, The Inquisition is an action-packed adventure of a young man gifted—or cursed—with an extraordinary and terrifying power…

A year has passed since the Tournament. Fletcher and Ignatius have been locked away in Pelt's dungeons, but now they must face trial at the hands of the Inquisition, a powerful institution controlled by those who would delight in Fletcher's downfall.

The trial is haunted by ghosts from the past with shocking revelations about Fletcher's origins, but he has little time to dwell on them; the graduating students of Vocans are to be sent deep into the orc jungles to complete a dangerous mission for the king and his council. If they fail, the orcish armies will rise to power beyond anything the Empire has ever seen.

With loyal friends Othello and Sylva by his side, Fletcher must battle his way to the heart of Orcdom and save Hominum from destruction . . . or die trying.


This paperback edition includes an interview with the author, a special sneak peek of the sequel, The Battlemage, and more.

The Summoner Trilogy
The Novice
The Inquisition
The Battlemage

Also in the Summoner series

The Outcast (Summoner: The Prequel)
The Summoner's Handbook
A Fine Welcome: Othello's Journey (A Summoner Short Story)
About the Author
---
Taran Matharu is the author of the Contender trilogy and the New York Times–bestselling Summoner series: The Novice (Book One), The Inquisition (Book Two), The Battlemage (Book Three), The Outcast (the prequel), and The Summoner's Handbook; the series has been compared to the Harry Potter and Lord of the Rings series. Taran Matharu lives in London.
Praise For…
---
Praise for The Inquisition:

"A fast-paced, familiar tale with strong echoes of Tolkien, Pullman, and Pokémon." —Kirkus Reviews

Praise for The Novice: "A young orphan makes friends (and enemies) at a magic school in this solid series opener. Fletcher is appealing precisely because of his Everyman qualities: he is not the smartest or the strongest, but he is a loyal friend and a fierce fighter against injustice." —Kirkus Reviews

"The appealing characters, fast-paced plot, focus on racial politics, and interesting demon varieties (demonology addendum included) make this an enjoyable read."—School Library Journal