Queen Victoria: Twenty-Four Days That Changed Her Life (Hardcover)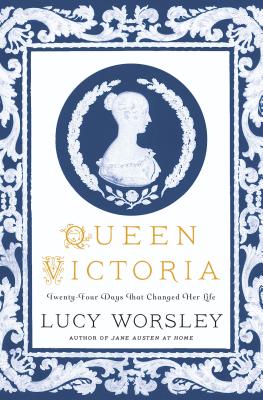 Description
---
The story of the queen who defied convention and defined an era

A passionate princess, an astute and clever queen, and a cunning widow, Victoria played many roles throughout her life. In Queen Victoria: Twenty-Four Days That Changed Her Life, Lucy Worsley introduces her as a woman leading a truly extraordinary life in a unique time period. Queen Victoria simultaneously managed to define a socially conservative vision of Victorian womanhood, while also defying its conventions. Beneath her exterior image of traditional daughter, wife, and widow, she was a strong-willed and masterful politician.

Drawing from the vast collection of Victoria's correspondence and the rich documentation of her life, Worsley recreates twenty-four of the most important days in Victoria's life. Each day gives a glimpse into the identity of this powerful, difficult queen and the contradictions that defined her. Queen Victoria is an intimate introduction to one of Britain's most iconic rulers as a wife and widow, mother and matriarch, and above all, a woman of her time.
About the Author
---
LUCY WORSLEY is an historian, author, curator and television presenter. Lucy read Ancient and Modern History at New College, Oxford and worked for English Heritage before becoming Chief Curator of Historic Royal Palaces, based at Hampton Court. She also presents history programmes for the BBC including Empire of the Tsars: Romanov Russia with Lucy Worsley and Lucy Worsley's Reins of Power: The Art of Horse Dancing. Her bestselling books include A Very British Murder: The Curious Story of how Crime was Turned into Art; If Walls Could Talk: An Intimate History of the Home; Courtiers: The Secret History of the Georgian Court; and Cavalier: The Story of a 17th Century Playboy. She lives in London, England.
Praise For…
---
"Worsley gives us Victoria in all her infinite variety—queen and mother, matriarch and minx. I loved it." —Daisy Goodwin, author of The American Heiress, The Fortune Hunter and Victoria: A Novel

"A wonderfully fresh, vivid and engaging portrait." — Jane Ridley, author of Bertie: A Life of Edward VII

"The glory of this book is in the details, and the specific moments, that Worsley chooses to single out for mention, and in her cheerful voice as she leads us by the hand to the next window of Victoria's life calendar." —The London Times

"an insightful, sympathetic, and vividly written examination of the 'good woman' who ruled England for 64 years....Worsley's command of the material and elegant writing style make this a must-read for anyone interested in the British monarchy."—Publisher's Weekly