Day of Empire: How Hyperpowers Rise to Global Dominance--and Why They Fall (Paperback)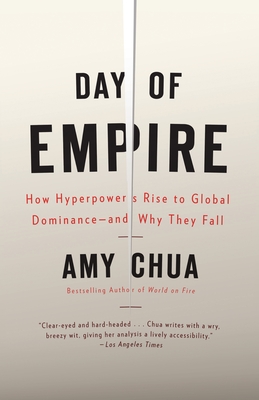 Description
---
In this sweeping history, bestselling author Amy Chua explains how globally dominant empires—or hyperpowers—rise and why they fall. In a series of brilliant chapter-length studies, she examines the most powerful cultures in history—from the ancient empires of Persia and China to the recent global empires of England and the United States—and reveals the reasons behind their success, as well as the roots of their ultimate demise.
Chua's analysis uncovers a fascinating historical pattern: while policies of tolerance and assimilation toward conquered peoples are essential for an empire to succeed, the multicultural society that results introduces new tensions and instabilities, threatening to pull the empire apart from within. What this means for the United States' uncertain future is the subject of Chua's provocative and surprising conclusion.
About the Author
---
Amy Chua is the John M. Duff Professor of Law at Yale Law School. She is a noted expert in the fields of international business, ethnic conflict, and globalization. Her first book, World on Fire: How Exporting Free Market Democracy Breeds Ethnic Hatred and Global Instability, a New York Times bestseller, was selected by both The Economist and the U.K.'s Guardian as one of the Best Books of the Year. Her second book, Day of Empire: How Hyperpowers Rise to Global Dominance-and Why They Fall, was a critically acclaimed Foreign Affairs bestseller. She lives in New Haven, Connecticut, with her husband and two daughters.
 

Praise For…
---
"Clear-eyed and hard-headed. . . . Chua writes with a wry, breezy wit, giving her analysis a lively accessibility." —The Los Angeles Times"Extraordinary. . . . An incredibly ambitious book, but Chua is up to the task." —Times Literary Supplement"Convincing [and] timely. . . . Chua's lively writing makes her case studies interesting in themselves." —The Washington Post"Takes up the challenge of 'Big History' [with] an almost Toynbeean sweep. . . . [Day of Empire] has a chance of becoming a classic." —Paul Kennedy, Foreign Affairs