Hunchback of Notre Dame (Compact Disc)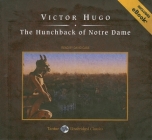 Description
---
Set in medieval Paris, Victor Hugo's powerful historical romance The Hunchback of Notre Dame has resonated with succeeding generations ever since its initial publication in 1837. It tells the story of the beautiful gypsy Esmeralda, condemned as a witch by the tormented archdeacon Claude Frollo, who lusts after her. Quasimodo, the deformed bell ringer of Notre Dame Cathedral, having fallen in love with the kindhearted Esmeralda, tries to save her by hiding her in the cathedral's tower. When a crowd of Parisian peasants, misunderstanding Quasimodo's motives, attacks the church in an attempt to liberate her, the story ends in tragedy. An epic tale of beauty and sadness, The Hunchback of Notre Dame portrays the sufferings of humanity with compassion and power.
About the Author
---
Victor Hugo (1802-1885) was a French poet, playwright, novelist, essayist, visual artist, statesman, human rights campaigner, and perhaps the most influential exponent of the Romantic movement in France. His best-known works are the novels "Les Miserables" and "The Hunchback of Notre Dame."

A highly respected and enthusiastic audiobook narrator, David Case specialized in creating unique and interesting character voices.