SAS: Sea King Down (Paperback)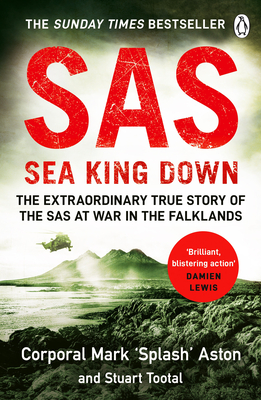 $17.95
Coming Soon - Available for Pre-Order Now
Description
---
After passing the world's toughest Special Forces selection and joining D Squadron, 22 SAS in 1979, Mark 'Splash' Aston thought the hard part was over.

Then on April 2 1982 Argentina invaded the Falkland Islands.

Days later D Squadron joined the cutting edge of Britain's campaign to retake the islands. Over the next six weeks of fighting, the action never let up. Facing extreme weather and a determined enemy, Splash and the men of D Squadron fought in one extraordinary contact after another.

And when their Sea King helicopter crashed in the freezing South Atlantic, Splash was one of just seven survivors. Evacuated to a hospital ship, Splash defied orders and a suspected broken neck to re-join his unit until the fight was won.

An unputdownable, edge-of-the-seat insight into still classified Special Forces operations publishing near the anniversary of the Fortuna Glacier rescue, SAS: Sea King Down will take its place alongside classics like Bravo Two Zero as military adventure writing of the highest order.
About the Author
---
After passing out from Sandhurst, Stuart completed several tours of Northern Ireland during the 'Troubles'. He saw active service in the 1991 Gulf War and during the invasion of Iraq in 2003. He has also served on the Army staff at the MOD, for which he was awarded an OBE in 2005.

In 2006 he commanded the 3rd Battalion of the Parachute Regiment (3 PARA), which was the first UK Battle Group to be sent to southern Afghanistan, for which he was awarded the Distinguished Service Order (DSO) for his 'outstanding leadership'. The fighting 3 PARA participated in has been described as the most intense level of combat experienced by the British Army since the Korean War. Although, promoted to full colonel, he subsequently resigned his commission over the poor treatment of his wounded.

Since 2008 Stuart has held senior MD global head operational positions in a major blue chip financial services corporate. He also set up a major industry leading programme for helping veterans transition into civilian employment that has helped over 4,000 ex-military individuals. Stuart is the founder and chairman of the Parachute Regiment's Afghanistan Trust charity. Since its inception in 2009, the charity has raised £3.4M for wounded paratroopers.

Stuart is a respected media security and defence commentator and regularly lectures on leadership in adversity and the 'transferables' from the military to corporate sector. He is author of the Sunday Times best seller -'Danger Close – Leading 3 PARA in Afghanistan' and 'The Manner of Men – 9 PARA's Heroic D-Day Mission', his third book 'Tank Action – A Troop Commander's War 1944-45 ' is being published in June 2016.