Sacagawea's Strength (Blast to the Past #5) (Paperback)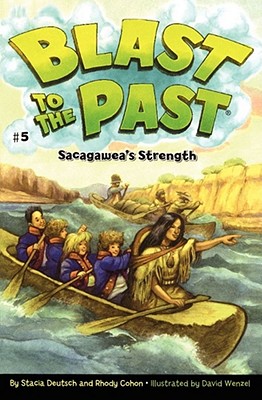 Description
---
Which way should they turn?

Abigail and her friends are in the middle of a Monday afternoon group project when Mr. C tells them it's time to jump back to the past. They're super-excited, even though this time things are more complicated than ever!

The kids have to convince Sacagawea not to give up on her dream. But they don't know what Sacagawea's dream is! Sure, they know that explorers Lewis and Clark mapped a route leading out West...but what does that have to do with the teenage Native American?

Can Abigail and her group find Sacagawea, figure out what her dream is, and convince her to stick with it -- all in just two hours?
About the Author
---
Stacia Deutsch is the author of more than fifty children's books, including the eight-book, award-winning chapter book series Blast to the Past. She has also written the tween novel Mean Ghouls as well as books for the Nancy Drew and the Clue Crew and The Boxcar Children series. Stacia has been on the New York Times bestseller list for the novelizations of the Cloudy with a Chance of Meatballs and The Smurfs movies. For new releases and school visit information, visit StaciaDeutsch.com.

Rhody Cohon does all the research and editing for the Blast to the Past series. She has a master's degree in computer engineering. Rhody lives with her family in Tuscon, Arizona.

David Thorn Wenzel has been part of the fantasy art movement since the 1970s when Middle Earth: The World of Tolkien Illustrated was released. He has continued to work on fantasy projects in the children's book, trade book, and graphic novel markets throughout his career. Illustrations from his 1980s book, Kingdom of the Dwarfs as well as the cover art of The Hobbit, are in the permanent collection of the New Britain Museum of American Art. Wenzel began his career working for Marvel and DC comics, working on The Avengers and Savage Sword of Conan. Other notable titles include the graphic novel of The Hobbit and The Wizard's Tale. Over the course of his career, he has also illustrated numerous children's books including Rudolph the Red-Nosed Reindeer, The Book of Kringle: Legend of the North Pole, and The King of Little Things. David lives in Connecticut where his studio overlooks a picturesque landscape of green farm fields and a winding brook. His entire family is involved in the arts. His wife Janice is an artist and teacher, and their two sons, Brendan (They All Saw A Cat, Hello Hello, A Stone Sat Still) and Christopher, are both visual artists. Greg Wenzel, David's brother, is an author and illustrator (Giant Dinosaurs of the Jurassic).