Weekend Pilots: Technology, Masculinity, and Private Aviation in Postwar America (Hardcover)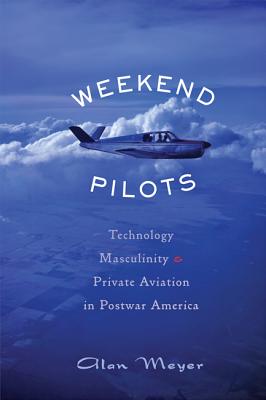 Description
---
In 1960, 97 percent of private pilots were men. More than half a century later, this figure has barely changed. In Weekend Pilots, Alan Meyer provides an engaging account of the postWorld War II aviation community. Drawing on public records, trade association journals, newspaper accounts, and private papers and interviews, Meyer takes readers inside a white, male circle of the initiated that required exceptionally high skill levels, that celebrated facing and overcoming risk, and that encouraged fierce personal independence.
The Second World War proved an important turning point in popularizing private aviation. Military flight schools and postwar GI-Bill flight training swelled the ranks of private pilots with hundreds of thousands of young, mostly middle-class men. Formal flight instruction screened and acculturated aspiring fliers to meet a masculine norm that traced its roots to prewar barnstorming and wartime combat training. After the war, the aviation community's response to aircraft designs played a significant part in the technological development of personal planes.
Meyer also considers the community of pilots outside the cockpit--from the time-honored tradition of "hangar flying" at local airports to air shows to national conventions of private fliers--to argue that almost every aspect of private aviation reinforced the message that flying was by, for, and about men. The first scholarly book to examine in detail the role of masculinity in aviation, Weekend Pilots adds new dimensions to our understanding of embedded gender and its long-term effects.
About the Author
---
Alan Meyer teaches aviation history and the history of technology at Auburn University. He is a longtime private pilot.