Prepared & Armed: Team Shooting Tactics for Home Defense (Paperback)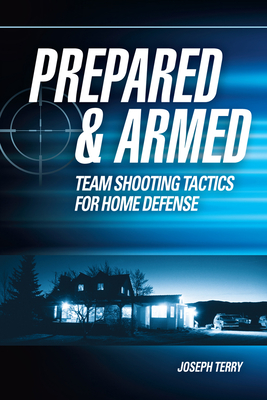 Description
---
Your Disaster Home Defense Plan
If the grid goes down, you cannot rely on traditional law enforcement to protect you from the lawlessness that will take over. Your family's safety will be entirely your responsibility. Are you prepared to defend you and yours in the wake of a major disaster? You will be if you follow the instructions in this book.
Prepared & Armed teaches you how to band together with likeminded citizens to deter would-be looters and pillagers. With this information, it won't just be you against the world after a crisis. You'll have the support of your fire team to help you stand against any threat that may come your way.
Inside you'll find:
Guidelines for assembling a survival group and fire team that provides mutual aid and protection to all members
Detailed instructions for selecting and fortifying a survival retreat
Static defense techniques for protecting your survival retreat
Safe and effective team-shooting training exercises
Outdoor survival skills useful for moving from one location to another following a disaster
Complete armament lists for your fire team along with gear lists for combat rucksacks and medical jump bags
Advice on how to effectively respond to neighbors in need without compromising your safety or survival supplies
Don't let a disaster catch you off guard. Ensure your family's safety now by preparing to defend them in the future. Start your fire team training today.
About the Author
---
Joseph Terry is an experienced outdoorsman and retired police reserve sergeant with twenty-seven years on patrol and fifteen years as a member of his department firearms instructor's team. He has also published three books on organizational development and a memoir. Joe divides his time between homes and family in Northern California and Texas.