Archery (Paperback)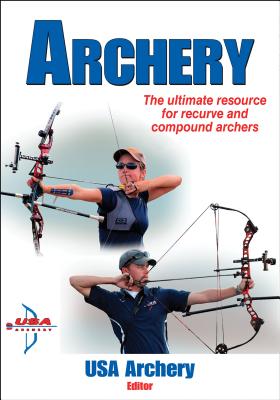 $24.95
Usually Ships in 2-3 Days
Description
---
If you're serious about improving accuracy, increasing consistency, and achieving competitive success, Archery is your guide.
Featuring the in-depth instruction, insight, and advice from the world's top coaches and archers, Archery sets a new standard in resources for those who compete with the recurve or compound bow.
Archery includes a wealth of information on perfecting stance, body alignment, muscle recruitment, and shot sequence. You'll master the skills and techniques taught at the U.S. Olympic Training Center by legendary coach KiSik Lee. Then you'll prepare for competition:
• Select and properly tune equipment.
• Develop a winning shot sequence.
• Set up, draw, and complete the shot.
• Maximize practice time.
• Train physically and mentally for competition.
• Develop a successful tournament strategy.
Developed by USA Archery, Archery is an invaluable resource you'll refer to again and again.
About the Author
---
USA Archery (USAA) is the national governing body for the sport of archery in the United States. It is also a member association of World Archery, the international governing body for archery as recognized by the International Olympic Committee. The mission of USA Archery is to provide the necessary resources for fostering athletes' participation, competition, and training in the sport.
USAA facilitates target archery competition in the United States, sanctioning hundreds of local, state, regional, and national events each year. The organization also facilitates Junior Olympic archery development and other grassroots archery programs across the United States. USA Archery oversees the selection and training of archers for international events such as the Archery World Cup; World Archery Championships; World Archery Para Championships; and the Pan Am, Parapan Am, Paralympic, and Olympic Games.
USA Archery is headquartered in Colorado Springs, Colorado.