The Tennis Drill Book (Paperback)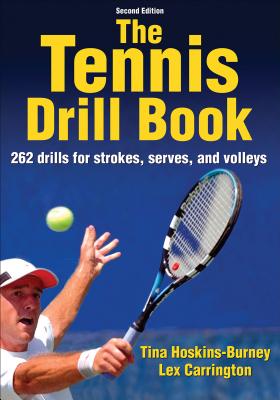 $21.95
Usually Ships in 2-3 Days
Description
---
The world's best tennis drill book returns—bigger, better, and more comprehensive than ever. Building on the strengths of the popular first edition, this second edition of The Tennis Drill Book includes more drills, expert instruction, advice, and analysis for today's players and coaches.
The Tennis Drill Book is your complete collection of drills, games, and tips for improving stroke technique, match strategy, and everything in between. Inside you will find
• progressive technique drills for mastering every stroke and shot combination;
• tactics drills for winning with aggressive or defensive strategies in every game situation;
• mental training drills for staying focused when the pressure is on;
• warm-up, cool-down, and conditioning drills for increasing speed, agility, and endurance; and
• game-based drills that simulate singles and doubles match play.
With insights, recommendations, and performance tips from teaching pro and former WTA player Tina Hoskins-Burney and veteran coach Lex Carrington (coach to Vera Zvonareva), The Tennis Drill Book is an essential reference that belongs in every tennis library.
About the Author
---
Tina Hoskins-Burney is a former professional player on the Women's Tennis Association (WTA) and satellite tours and is a certified professional from the United States Professional Tennis Association (USPTA). She has trained and traveled with top pros, including Arthur Carrington, Lori McNeil, Zina Garrison, and Rodney Harmon.
Hoskins-Burney has more than 30 years of experience in both playing and teaching tennis to all age groups and ability levels. She has helped many young players achieve USTA rankings, find jobs as teaching professionals, and achieve college scholarships. For over 20 years, Hoskins-Burney worked as the head tennis instructor at a prestigious racket club in New Jersey before relocating to Nantucket, Massachusetts, where she continued her teaching at a private club before branching out on her own to offer instruction and equipment through the Tennis Loft.
Lex Carrington has over 20 years of experience coaching both recreational players and athletes who have gone on to play for top Division I, Division II, and Division III varsity tennis teams. He has spent the majority of his career working with junior players. In addition to several other professional players, Carrington coached Vera Zvonareva for four years. Achieving a career-high No. 2 world ranking by the WTA, Zvonareva was a finalist at both Wimbledon and the U.S. Open in 2010.