Golden Kicks: The Shoes that Changed Sport (Hardcover)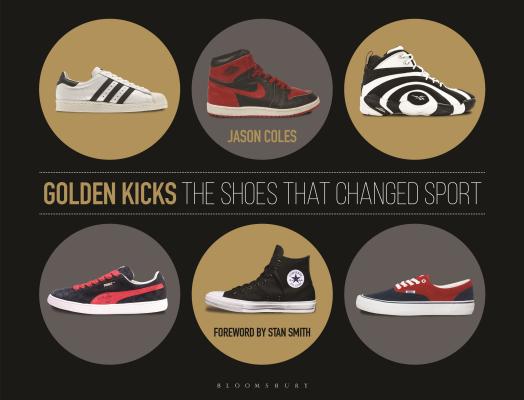 Description
---
Favorites like the adidas Stan Smith, Nike Air Jordan, and Puma Suede are worn by millions as everyday footwear but were originally born to bring victory on court, track and field. Golden Kicks reveals the stories behind some of the most significant shoes in sporting history, the roles played in sport's greatest moments and how they have made the transition from classic sportswear to mainstream streetwear, with almost everyone now owning a pair.

Join us on a global journey that begins in the early 1900s and ends in the present day, charting the development of sports shoes and sport itself through the ages, from the Dassler Brothers' spikes in which Jessie Owens destroyed Hitler's vision of Aryan supremacy in Berlin, to the gold Pumas that Usain Bolt used to destroy world records in Beijing. Both sports fans and sneakerheads will discover and love to share the amazing stories behind the shoes, the people who made them and the athletes who wore them.
About the Author
---
Jason Coles has been involved in the sports industry his whole life, working with some of the biggest brands, events and athletes in the industry. A self-confessed sneaker-head and walking sport shoe encyclopaedia, he is rarely seen out of his adidas Superstars.
Praise For…
---
"A trek through sporting history's most important trainers. Including the Le Coqs rocked by Arthur Ashe when he became the first – and only – black man to win Wimbledon in 1975, and the timeless Vans Style #95 Eras worn by skateboarding's key architects, they're all here. A sexy sole super group." - Mr Hyde

"The shoes that helped their wearers become champions are now stars in their own right." - The Guardian

"Eexamines the lives of the trainers that not only changed sport but sportswear forever." - GQ

"The history behind the most significant sports shoes ever made." - Coach

"This book is sneakerature at its finest." - Sneakerature

"Stan Smith's tennis shoes; the Nike Air Jordans; Usain Bolt's personalized gold Pumas. They're all here, in this exploration of the shoes that changed sport. It covers the evolution of the footy boots, too, which is cool, and the stories and photos of the athletes and shoes are all presented in huge, glorious technicolor for your viewing pleasure." - Forever Sports

"Informational and fun jaunt through the world of sports." - Style of Sport

"The best book about sneakers by far . . . More than a book, a bible." - Le Closet Magazine