Exposed: The Dark Side of the America's Cup (Hardcover)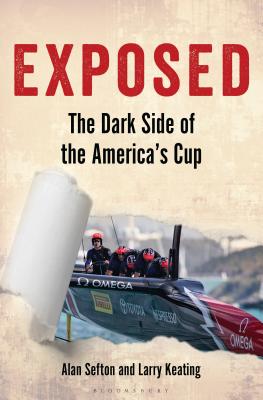 Description
---
The America's Cup has always been a hotbed of unbridled ambition, personal agendas, intrigue, spying, and more recently, hard-fought court cases--and that's before the boats even get out on the water to race.

Exposed: The Dark Side of the America's Cup lifts the lid on this unique contest for the oldest trophy in sport and on the powerful men who have made it "the toughest game in town." For some it has been the key to social advancement, for others it has opened important doors in the business and commercial world, and in some cases it has become a magnificent obsession. It is the pinnacle of achievement in a sport that was once the domain of the wealthy but which today has become fertile territory for a new breed of super-wealthy owners and sailing professionals who would change the event forever.

Exposed is a fascinating glimpse behind the scenes of one of the most compelling and controversial contests in the sporting world.
About the Author
---
Alan Sefton is a former yachting journalist and publisher who has been following and covering the America's Cup since 1980. He helped launch New Zealand's involvement in the America's Cup in the early to mid-1980s and was an adviser to Sir Michael Fay in his three influential campaigns for the Auld Mug. More recently, with the late Sir Peter Blake, he formed Team New Zealand and was its executive director for the successful challenge in 1995 and equally successful defense in 2000. He is a self-confessed "progressive traditionalist" when it comes to Cup affairs and a committed supporter of the Deed of Gift and all that it intends.

Larry Keating built a strong interest in America's Cup history, working with the world's largest collection of historical film and video on the event for more than 25 years. Working at various levels in the media, he was inspired by New Zealand's successes in international yachting through the 1970s and 80s, and traveled the world covering most of the major regattas, including around the world races, Olympic Games, and America's Cup regattas from 1987 onward. His experience in photography, broadcasting, and historical filmmaking took him to the very core of many of the dramas and controversies in this book. Now living in New Zealand's Bay of Islands, Larry continues to sail while watching with interest the never-ending saga of the America's Cup.
Praise For…
---
". . . a thorough, fair, and compelling history of the America's Cup." - Good Old Boat

"Exposed is a fascinating behind-the-scenes glimpse at one of the most compelling and controversial contests in the sporting world." - Yachting Times