Running: Cheaper Than Therapy: A Celebration of Running (Hardcover)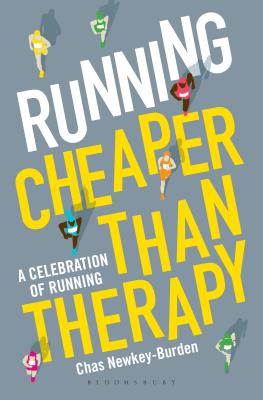 Description
---
From fantastic running quotes ("How do you know if someone ran a marathon? Don't worry, they'll tell you." -Jimmy Fallon) and hilarious spectator signs ("Worst parade ever!") to witty profiles of different types of runners (street fundraisers, gadget gurus) and training tips, Running: Cheaper than Therapy is designed to be the perfect gift for the runner, jogger, or triathlete in your life.
Written by a Telegraph journalist and self-confessed running nut, this smartly packaged and brilliantly knowing miscellany details entertaining, real-life runners' stories (being overtaken by a kid or getting lost while training) and takes a humorous look at the mistakes runners make (wearing a brand new pair of sneakers for half marathon or getting so pumped by your morning run you have arguments with everyone at work).
About the Author
---
Chas Newkey-Burden is a running fanatic who has completed over 100 events in several countries including marathons, half-marathons, and dozens of Parkruns. He writes about running for the Guardian, Shortlist, Four Four Two, and Attitude. He is the author of 28 books, including gift titles such as The All-New Official Arsenal FC Miscellany, Help! I'm Turning Into My Dad, Help! I'm Turning Into My Mum, and Great Email Disasters. He is on Twitter as @AllThatChas.
Praise For…
---
"Full of fun observations to make seasoned runners nod in recognition, or chuckle." - The Scotsman
"Runners of all kinds will love this..." - Outdoor Fitness, Book of the Month
"Littered with facts, figures, funny stories and famous figures – an easily digestible and amusing read ... will make you laugh, remind you why you run in the first place and motivate you to get outside." - Run Deep Magazine
"Definitely worth a read." - Kay Burley
"Nice, easy read about various aspects of running and things us runners experience ... light-hearted and fun." - Liz Yelling
"Read the new book, Running: Cheaper Than Therapy for bite-sized bits of advice and stories from running writer Chas Newkey-Burden." - Woman's Weekly
"Highly recommended. Sports Book of the Month." - The Bristol Post