Pushing the Boundaries: Cricket in the Eighties: Playing home and away (Paperback)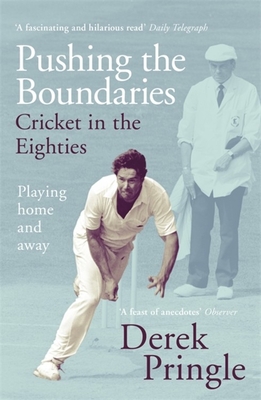 Description
---
Derek Pringle is finally ready to tell his story of cricket in the 80s.

First chosen by England whilst still at university in 1982, Derek featured in the national side for the next 11 years. He played 30 Tests, 44 One Day Internationals, and appeared in 2 World Cups.

Inside the dressing room, and out on the pitch, Derek witnessed at first hand an era of English cricket populated by characters such as Botham, Gooch, Lamb, and Gower. An era so far removed from today's rather anodyne sporting environment. And it wasn't just at international level that the sport lived life to the full. He was an integral part of Essex's all conquering side that won the County Championship 6 times as well as numerous one day trophies.

Full of insight and experience here is the story of one of English cricket's most tumultuous periods told by someone who was there.
About the Author
---
Derek Pringle was born and raised in Nairobi, Kenya, where he first learnt to play cricket on matting pitches. He attended St Mary's School, Nairobi, then Felsted School in Essex, before reading Geography and Land Economy at Cambridge, where he captained the university at cricket and won three blues.

While still an undergraduate he was selected to play Test cricket for England in 1982, a feat achieved previously by Ted Dexter, 24 years earlier. He also appeared, briefly, in the Oscar-winning film Chariots of Fire, as Cambridge's vice-captain of athletics.

He played 30 Tests and 44 one-day internationals for England, appearing in two World Cups, one as a losing finalist in 1992. His cricket career at Essex, which spanned 15 years, included five County Championship titles, three John Player League titles, a NatWest Trophy and countless friendships. He retired from the game in 1993.

A second career, as a journalist, saw him appointed cricket correspondent for the Independent, then the Daily Telegraph, a role he fulfilled until 2014. He now works as a freelance writer.

His hobbies include photography and collecting vinyl records, of which he has several thousand - the latter perhaps explaining why he has never married. He has a son whose musical tastes he is trying to shape.

He lives in Cambridge.
Praise For…
---
A fascinating and hilarious read. Like Chris Lewis, Andrew Flintoff, Ben Stokes and many more [Pringle] was originally hailed as the new Botham, before winding up as a very junior version. In his storytelling though, he might just have the edge on the great man.—Daily Telegraph

A feast of anecdotes—The Observer

Anecdotes are funny, original and astounding, often all three...He [Pringle] has delivered with interest on his promise to avoid a bog-standard, self-serving work; if he pushed boundaries in his career he has flattened them completely with this honest addition to cricket literature.—The Cricketer

As Pringle spent the decade as [Ian] Botham's understudy ... it makes for a fascinating and hilarious read.—Daily Telegraph

Former England Test bowler's eye-popping and hilarious account of cricket in the 80s is as doused as a sherry trifle.—Guardian

Pringle's tale is both a love letter to the greatest player of his generation, Sir Ian Botham and an engaging romp in which cricket only plays a walk-on part. That despite the author's playing record that included 30 Tests, 44 ODIs, six County Championships with Essex and a World Cup final, a CV that most would be proud to take to the grave.—Michael Atherton, The Times