The World's Greatest Chocolate-Covered Pork Chops (Hardcover)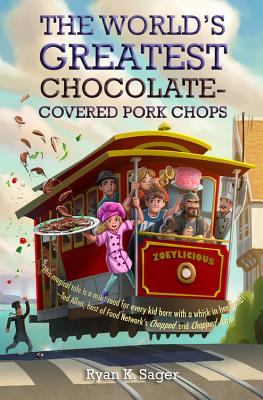 Description
---
Twelve-year-old chef Zoey Kate's Fried Banana Fondue is delectable, her Maple Cinnamon Crab Fajitas are divine, and her Chocolate-Covered Pork Chops are to die for. Zoey is the best cook in town and she wants everyone to know it. She's on a mission to start her own restaurant, but quickly learns that the restaurant industry is competitive . . . and dangerous. There are people who see Zoey as a threat, and they'll use any means necessary to make sure that she fails.

Featuring a precocious, larger-than-life character, lots of humor, fast-paced action and mouth-watering foods, this cooking story is sure to appeal to young foodies and fans of shows like MasterChef Junior and Rachael vs. Guy: Kids Cook-Off.
About the Author
---
Ryan K. Sager is a guy who wrote a book. This book. He wrote this bio, too. Used third-person for some reason.

After surviving a bus-hijacking in Venezuela, a precarious commute in Puerto Rico, and drinking tap water in Southern California, Ryan moved to Utah to be closer to his favorite hospitals. He's got a cute wife who loves to bake cupcakes, a cute daughter who loves to bake cookies, and expensive dental insurance.

The World's Greatest Chocolate-Covered Pork Chops is his debut novel.
Praise For…
---
If you're a kid who's obsessed with food and cooking (or a parent who has one), you're going to recognize Zoey immediately. I did! Because every episode of Chopped Junior brings us sassy, confident, creative young people with big dreams of becoming chefs-usually while also holding down jobs as firefighters, movie stars, and veterinarians. In this magical story, Zoey cooks her way into a business loan and brings her culinary dreams to life at the ripe age of 12, something that seems less and less impossible with each passing year of American kids' ever-growing fascination with food. A must-read for every kid born with a whisk in her hand!—Ted Allen, host of Food Network's Chopped and Chopped Junior