Dictionary of the Ponca People (Paperback)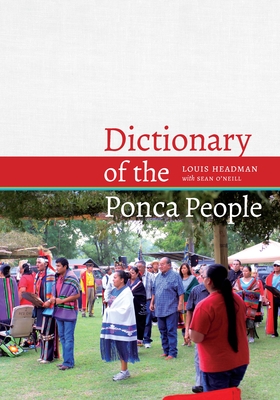 $35.00
Usually Ships in 2-3 Days
Description
---
Dictionary of the Ponca People presents approximately five thousand words and definitions used by Ponca speakers from the late nineteenth century to the present. Until relatively recently, the Ponca language had been passed down solely as part of an oral tradition in which children learned the language at home by listening to their elders.

Almost every family on the southern Ponca reservation in Oklahoma spoke the language fluently until the 1940s, when English began to replace the Ponca language as children were forced to learn English in government boarding schools. In response to demand, Ponca language classes are now being offered to children and adults as people seek to gain knowledge of this important link to tradition and culture.

The approximately five thousand words in this volume encompass the main artery of the language heard and spoken by the parents and grandparents of the Ponca Council of Elders. Additional words are included, such as those related to modern devices and technology. This dictionary has been compiled at a time when the southern Poncas are initiating a new syntactic structure to the language, as few can speak a full sentence. This dictionary is not intended to recover a cultural period or practice but rather to serve as a reference for the Poncas' spoken language.

 
About the Author
---
Louis Headman (Ponca elder) is the senior language researcher for the Ponca Tribe of Native Americans, project coordinator of the Ponca Language Grant, and pastor at the Church of the Nazarene in Ponca City. He is the author of Walks on the Ground: A Tribal History of the Ponca Nation (Nebraska 2020). Sean O'Neill is an associate professor of anthropology at the University of Oklahoma. He is the author of Cultural Contact and Linguistic Relativity among the Indians of Northwestern California and the coeditor of volume 14 of The Collected Works of Edward Sapir: Northwest California Linguistics.

 
Praise For…
---
"As Chairman of the Ponca Tribe of Nebraska, I recently issued a State of Emergency as it relates to the near extinction of the Ponca Language in our Tribal Nation. Through assimilation and termination polices of the United States, our language is critically endangered. The Ponca Community Dictionary will be a vital tool in preserving and revitalizing the Ponca language. The Ponca Tribe of Nebraska will be utilizing it for future generations of Ponca speakers."—Larry Wright Jr., chairman of the Ponca Tribe of Nebraska
 

"This dictionary is the culmination of decades of work and persistence to save a language the U.S.  federal government worked hard to eradicate. As a first language Ponca speaker, Louis Headman has worked tirelessly with teachers, elders, and citizens of both the Ponca Tribe of Nebraska and Ponca Tribe of Oklahoma to record and preserve their language. Because of their efforts, the Ponca language will endure long after the boarding schools the Federal Government erected to eliminate it."—Mary Kathryn Nagle, citizen of Cherokee Nation, partner at Pipestem Law P.C., and author of Waaxe's Law
 

"As a descendent of Chief Headman, and nephew to Louis Headman, I can say emphatically that the importance of Ponca language preservation and maintenance cannot be overstated or taken for granted. It has been a journey to walk a few steps with my uncle who has been on a lifelong journey to accomplish this incredible and vast contribution to the future of Ponca speakers and singers."—Randall Bruce Howe Ross, Ponca/Otoe