Come Now, Let Us Argue It Out: Counter-Conduct and LGBTQ Evangelical Activism (Anthropology of Contemporary North America) (Hardcover)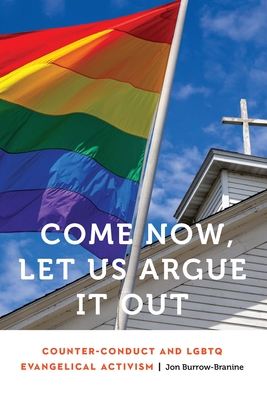 Email or call for price.
Coming Soon - Available for Pre-Order Now
Description
---
Come Now, Let Us Argue It Out provides a look into a community that challenges common narratives about what it means to be LGBTQ and Christian in the contemporary United States. Based on his participant-observation fieldwork with a faith-based organization called the Reformation Project, Jon Burrow-Branine provides an ethnography of how some LGBTQ and LGBTQ-supportive Christians negotiate identity and difference and work to create change in evangelicalism.

Come Now, Let Us Argue It Out tells the story of how this activism can be understood as a community of counter-conduct. Drawing on a concept proposed by the philosopher and historian Michel Foucault, Jon Burrow-Branine documents everyday moments of agency and resistance that have the potential to form new politics, ethics, and ways of being as individuals in this community navigate the exclusionary politics of mainstream evangelical institutions, culture, and theology.

More broadly, Burrow-Branine considers the community's ongoing conversation about what it means to be LGBTQ and a Christian, grappling with the politics of inclusion and representation in LGBTQ evangelical activism itself.




 
About the Author
---
Jon Burrow-Branine is an independent scholar as well as a technical writer in the area of health information and life sciences technologies.
 
 
Praise For…
---
"Come Now, Let Us Argue It Out is an extremely important and timely work. The book not only sheds light on the strategies and tactics of a major LGBTQ Christian organization, the Reformation Project, but also provides compelling insights into the intersections of religion, gender, sexuality, and social activism more generally. This is a phenomenal book that deserves a wide readership."—Jonathan Coley, author of Gay on God's Campus: Mobilizing for LGBT Equality at Christian Colleges and Universities

"This is a topic of tremendous importance, pointing to massive changes afoot in evangelical America. Many younger Christians in particular are keeping their faith in God but losing faith in churches that are hostile to their LGBTQ friends and loved ones. . . . This is a fascinating contribution to American studies, sociology, anthropology, and religion studies."—Dawne Moon, author of God, Sex, and Politics: Homosexuality and Everyday Theologies