My Lost Poets: A Life in Poetry (Paperback)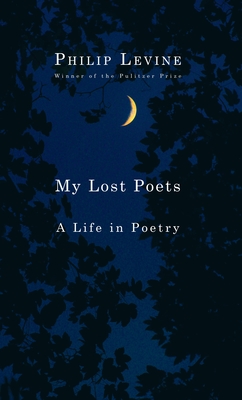 Description
---
Now in paperback: essays, speeches, and journal entries from one of our most admired and best-loved poets that illuminate how he came to understand himself as a poet, the events and people that he wrote about, and the older poets who influenced him.

In prose both as superbly rendered as his poetry and as down-to-earth and easy as speaking, Levine reveals the things that made him the poet he became. In the title essay, originally the final speech of his poet laureate year, he recounts how as a boy he composed little speeches walking in the night woods near his house and how he later realized these were his first poems. He wittily takes on the poets he studied with in the Iowa Writers' Workshop: John Berryman, who was his great teacher and lifelong friend, and Robert Lowell, who was neither. His deepest influences--jazz, Spain, the working people of Detroit--are reflected in many of the pieces. There are essays on the Spanish poets he admires, on William Carlos Williams, Wordsworth, Keats, and others. A wonderful, moving collection of writings that add to our knowledge and appreciation of Philip Levine--both the man and the poet.
About the Author
---
PHILIP LEVINE was born in 1928 in Detroit and graduated from Wayne University (now Wayne State University). After a succession of industrial jobs, he attended the writing workshop at the University of Iowa, where he received an MFA in 1957. He settled in Fresno, California, where he taught at the state university until his retirement, and afterward served as poet-in-residence at New York University for more than a decade. He received many awards for his books of poems, including two National Book Awards--in 1980 for Ashes: Poems Old and New, and in 1991 for What Work Is--and the Pulitzer Prize in 1995 for The Simple Truth. In 2011 he was appointed poet laureate of the United States. He died in 2015.
Praise For…
---
"Delightful reading. . . . Levine excels at telling good stories and drawing memorable portraits of people." —Charles Simic, The New York Review of Books

"A balancing act between melancholy and the thrill of discovery . . . [This work] belongs in every library where the poetry collection matters—and that should be every library." —Herman Sutter, Library Journal (starred review)

"You never get the sense that the poet, despite advancing years, is looking over his shoulder to posterity. Instead he looks directly at you, the world and the mysteries of his soul." —Paul Wilner, San Francisco Chronicle

"Warmhearted, robustly beautiful autobiographical essays . . . Crisply rendered memories and observations are conveyed with abiding tenderness, self-deprecation, sharp humor, and steely lyricism, all shaped by [Levine's] profound thankfulness for his guiding lights, his 'lost poets.' . . . This is vital and affecting testimony to what it means to live as a poet in a largely indifferent, relentlessly churning world." —Donna Seaman, Booklist
 
"A sparkling collection of essays . . . full of scintillating remembrances of fellow poets . . . Like his poetry, generous, honest, and real." —Kirkus Reviews
 
"Like so many of Levine's poems, this book evinces a commitment to evoking a hard-won experience and bringing it to lyric life." —Publishers Weekly