Bill Kroen's Golf Tip-A-Day 2021 Calendar (Calendar)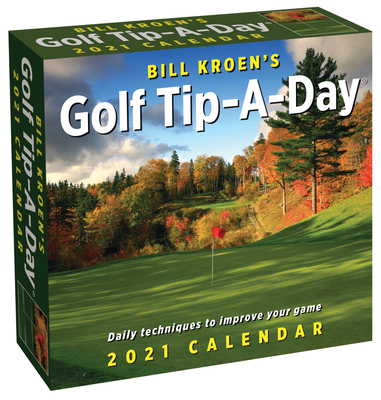 Description
---
Filled with useful tips, reminders, and advice about one of the world's most beloved sports, Bill Kroen's Golf Tip-A-Day calendar is an indispensable accessory for seasoned and casual golfers alike.
Bill Kroen's tips cover all aspect of the game including suggestions for drives, chips, lobs, putts, and every shot encountered in a golf round. From tee to green, Bill Kroen brings decades of experience as a player and golf pro to his insights on equipment, strategy, game play, and sportsmanship. The all-new calendar is a must-have daily reference for every golfer looking to improve on the links.
Features include: 
Tear-off pages
Day/date reference on each page
Includes official major world holidays
Plastic easel backer for desk or tabletop display
About the Author
---
Bill Kroen is the author of the national bestseller, THE GOLF TIP A DAY CALENDAR, which has sold well over one million copies to date. In addition, Bill is the author of GOLF; HOW GOOD DO YOU WANT TO BE? (golf psychology and instruction), GOLF DYNAMICS (golf instruction), THE WHY BOOK OF GOLF (National Sports Bestseller), THE COMPLETE WHY BOOK OF GOLF (ebook), SO, YOU THINK YOU KNOW GOLF (golf trivia), and YOUR PUTTER OR YOUR WIFE (golf humor).