Magical Albert: How a Preemie Foal Changed One Couple's Definition of Family Forever (Paperback)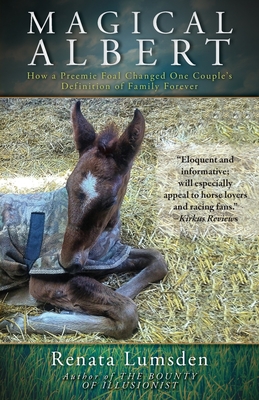 Email or call for price.
Usually Ships in 2-3 Days
Description
---
When an unexpected medical miracle allows both a champion racing mare and her preemie colt to survive a critical emergency, their owners, Dave and Renata Lumsden, can only hold their breath as they watch the foal grow. Dave is optimistic, but science-minded Renata worries the colt's preemie-related challenges will return to haunt him. If Albert can't make it as a racehorse, what kind of future does he face? And, with his mother Lusi's broodmare career cut short by the surgery that saved her life, what's in store for her?

Seeking answers to these questions, Dave and Renata embark on a sometimes heartbreaking, often exhilarating, but always unpredictable journey that challenges them and their horses in startling ways. And when Renata finally opens her heart and mind beyond science, these four-legged creatures and the lessons they inspire will lead her and Dave to a whole new, and ultimately healing, concept of family....