Harley Manuscript Geographies: Literary History and the Medieval Miscellany (Manchester Medieval Literature and Culture) (Hardcover)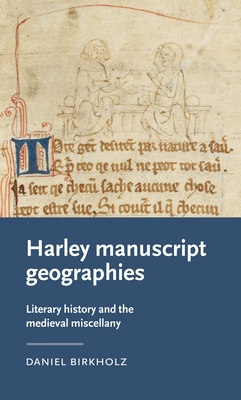 Description
---
This study applies the methodologies of literary geography to the unique contents of a codex known as London, British Library MS Harley 2253. The Harley manuscript was produced in provincial Herefordshire by a scribe whose literary generation was wiped out in the Black Death of 1348-51. It contains a diverse set of writings: love-lyrics and devotional texts, political songs and fabliaux, saints' lives, courtesy literature, bible narratives, travelogues, and more. These works alternate between languages--Middle English, Anglo-Norman, and Latin--but have been placed in mutually illuminating conversation.

Despite its significance as a record of an in-between period of literary history, stretching from the Norman Conquest to the plague era, Harley 2253 has never before been the subject of a monographic study. Harley manuscript geographies orients readers to this compelling material by describing the phenomenon of the medieval miscellany in textual and codicological terms. It explores how this fragmentary work keeps being sutured into 'whole'-ness by commentary upon it, while examining the different genres, topics, and social groupings it contains.

Ultimately, the book lays the groundwork for approaching this compilation via the interpretive lens that cultural geography provides. Readers from literary history, medieval studies, cultural geography, gender studies, Jewish studies, book history, and more, will profit from the encounter.
About the Author
---
Daniel Birkholz is Associate Professor of English at the University of Texas at Austin