Pidge's Story (Voltron Legendary Defender) (Paperback)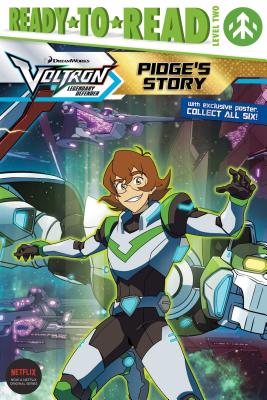 Description
---
Get to know Pidge in this Level 2 Ready-to-Read based on the new Netflix original series, DreamWorks Voltron Legendary Defender.

Hi. My name is Pidge. Well, actually, my real name is Katie. I'm just your average computer genius who helps to save the universe, changes her identity, and adapts alien technology while piloting a spaceship called the Green Lion. No big deal, right? This is my story.

This story gives readers a closer look into the life of Voltron's Green Paladin, Pidge. More of the Paladins' stories will be available soon. Collect them all and form Voltron with the covers!

This paperback edition comes with a collectible poster! Collect all six!

DreamWorks Voltron Legendary Defender © 2018 DreamWorks Animation LLC. TM World Events Productions, LLC. All Rights Reserved.
About the Author
---
Patrick Spaziante is an American comic book artist and children's book illustrator known for his work for Archie Comics, in particular his interior pencil and cover work for Sonic the Hedgehog, Sonic X, and Sonic Universe.