Elements of the Swing: Fundamental Edition (Paperback)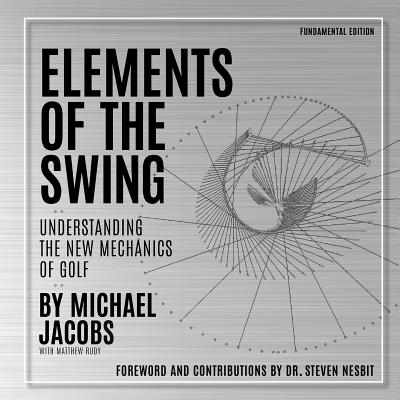 Description
---
For as long as golfers and golf instructors have been in the game, they've been searching for better ways to understand the swing. Until now, they've always had to rely on the RESULT of a swing-seeing positions or movement live or in pictures or video, or data on TrackMan.
Not anymore.

In the Elements of the Swing, Michael Jacobs introduces the first swing analysis that looks at what CAUSES the club to move. Based on a seven-year research project with preeminent golf scientist Dr. Steven Nesbit, Elements of the Swing uses analysis from Jacobs and Nesbit's cutting-edge new software to show for the first time WHY a club moves the way it does, not just HOW.

Elements of the Swing is the first book to explain the basic physics of the club's movement in a way that any player or teacher can both understand and immediately use. You'll learn about the factors that give each swing its unique fingerprint, and how to change your swing in ways that lead to improved performance-not just improved positions, aesthetics or numbers on a TrackMan screen. It will become one of the game's standard teaching texts.
About the Author
---
Michael Jacobs is based at Rock Hill Country Club in Manorville, NY, where he operates one of the most technologically advanced teaching studios in the world. Michael is the 2012 Metropolitan PGA Teacher of the year, and is the #4 ranked teacher in New York by Golf Digest. He is the only golf instructor to have designed his own research software, Jacobs 3D, which measures the forces and torques at work in a golf swing. He is also the co-author of Swing Tips You Should Forget, and his articles appear regularly in Golf Digest.