Pain and Passion: The History of Stampede Wrestling (Paperback)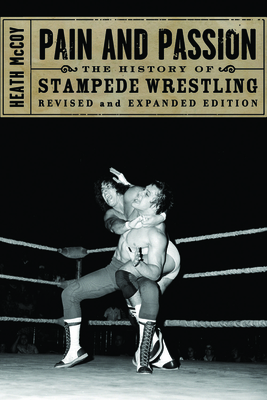 Description
---
Calgary's Stampede Wrestling spawned some of the biggest wrestling stars in history, from mat kings of the past like Gene Kiniski and Superstar Billy Graham to modern idols like Bret "Hitman" Hart, the British Bulldogs, and Chris Benoit. Pain and Passion tells how a small, family-run wrestling business profoundly influenced the world of professional wrestling as we know it today. Pain and Passion takes readers on a rowdy ride through the evolution of Stu Hart's Calgary promotion, from its meagre beginnings in the 1940s, its peak in the 1980s, and its fall as Vince McMahon's World Wrestling Entertainment changed the face of wrestling forever. But this is more than a wrestling story -- it's a tale of family and of human tragedy. The Hart family lived for the wrestling business and, like Starbucks mowing down a mom-and-pop coffee shop, the emergence of McMahon's media colossus ran Stampede into the ground. The wrestling game lost its innocence and western Canada lost a staple of its pop culture. As for the Hart family, the once-mighty clan was nearly destroyed by the business it loved. The Stampede Wrestling story is a wild blood-on-the-mat saga over fifty years in the making. It's sure to captivate not only wrestling fans, but anyone who appreciates a powerful drama.
About the Author
---
Heath McCoy is a pop culture reporter and rock critic for the Calgary Herald. A lifelong wrestling fan, McCoy won a gold award at the 2005 Western Canadian Magazine Awards for his article on Stampede Wrestling, entitled "Butchers, Stompers & Cheats," that appeared in the Calgary Herald's Swerve magazine.
Praise For…
---
"I couldn't put the book down. . . . Brutally honest, its depth, getting into so many of the key personalities and stories, is amazing."  Dave Meltzer, Wrestling Observer


"McCoy deftly resurrects the iconic status that Stu Hart's family once enjoyed among wrestling fans worldwide. . . . A wild blood-on-the-mat saga and a powerful drama that will captivate readers."  Miami Herald
"I can't say enough good things about [this book]. This is easily one of the top five wrestling books of all time and I recommend everyone pick up a copy today and read it. You will love it just as much as I did."  Online World of Wrestling
"Throughout the tale, you meet wild and wacky characters like the McGuire brothers tag team, who made the Guinness World Book of Records as the world's heaviest twins. . . . Or a guy who tried to drink Canada dry (not easy considering the size of Canada) and a man who kept a bear in his house until one day he forgot to lock the cage!" 
NY Daily News
"Riveting story detailing the rise, fall, and rebirth of the Hart wrestling dynasty."  About.com
"An excellent read, well-researched, wonderfully written . . . and brutally honest, balanced and filled with real passion. . . .  A must-read."  411mania.com
"[This] collection of stories has been widely considered as the most in-depth coverage of the territory."  SLAM! Sports
"The title says it all and this book delivers."  thefightnetwork.com