The Way of the Ninja: Secret Techniques (Paperback)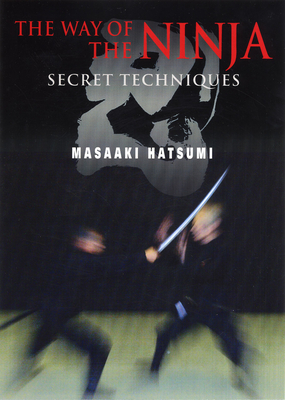 Description
---
The essence of ninjutsu, explored by the world's most famous living ninja grandmaster.

In his classic work Masaaki Hatsumi reveals the hidden secrets and truths about this mysterious and fascinating Japanese martial art. He looks at the traditions, training, and techniques, then shows how this knowledge will lead readers to an understanding of two essential principles: that ninjutsu is the very foundation of the martial arts; and that ninjutsu illuminates its true spiritual significance. Now in paperback, the book features detailed demonstration photos, sidebars on many topics related to ninjutsu, and new material by Hatsumi explaining the relevance of ninjutsu in today's world.
About the Author
---
Born in 1931, Masaaki Hatsumi progressed through various martial arts before meeting his mentor Takamatsu Toshitsugu. He studied with Toshitsugu for fifteen years, becoming the 34th Grandmaster of Togakure-ryū Ninjutsu and eight other arts, which Hatsumi unified into the Bujinkan system. While traveling the world, teaching thousands of individual students as well as law enforcement professionals, he received numerous accolades from politicians and spiritual leaders of many nationalities. Hatsumi continues to teach and hold workshops on ninjutsu.
Praise For…
---
"The book itself is a kin do 'secret document' with many hidden teachings in the from of metaphors or explanations that contain obscure meanings. …This is no oversight. Hatsumi intentionally did this as a way to get the reader to ponder the techniques more deeply. Almost like a Zen koan." —Journal of Asian Martial Arts



"Through perceptive observations and many detailed pictures, Dr. Hatsumi reveals the hidden reality behind this mysterious and fascinating martial art. The Way of the Ninja will help widen readers' perceptions and deepen their understanding of two essential principles. One is that Ninjutsu is the very back bone of the martial arts; the other, that Ninjutsu reveals their true spiritual significance. —Cultral News



"…no stunts: They're the real thing!" —Asian Week