Blabac Photo: The Art of Skateboarding Photography (Hardcover)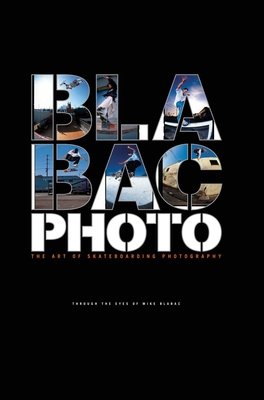 Description
---
"It's rad what I do." -Mike Blabac

Blabac Photo: The Art of Skateboarding Photography is astunning chronicle of a youth movement as seen throughthe lens of Mike Blabac, a man who is as dedicated to hiscraft as he is to the skateboarding lifestyle that inspired it.For millions of people around the world, skateboarding ismore than a mere hobby or a sport-it's a way of life thathas shaped everything from fashion and music, to videogames and art. Blabac Photo proves that point with 300awe-inspiring images that communicate the stories andexploits of some of the most creative athletes to ever stepon a skateboard including Eric Koston, Stevie Williams,Colin McKay, Rob Dyrdek, and Danny Way. As skateboardingevolved over time, from a hobby for kids on the Veniceboardwalk into a global culture, skate legends were born,records were broken, titans of industry materialized-andMike Blabac was there to document the history of themovement as it developed before his eyes.
About the Author
---
Mike Blabac is one of the preeminent skateboardphotographers of his generation. His career has been builton a strong work ethic, a small dose of good fortune, and anundying love for riding on a small board with four wheels. Hisparents gave him his first camera at age 13, but he didn'tgrasp the full power of photography until he started lookingat skateboard magazines. In the early 90s, Blabac caught hisfirst break. He began taking pictures of a rising skater namedJosh Kalis, and an image off the first roll he shot ran as afull page in TransWorld SKATEboarding magazine. Soon after,Blabac moved to California, where his career took off. Hebegan shooting spreads and covers for the top skateboardmagazines, including Thrasher and Skateboarder, andeventually became staff photographer for Mad Circle and GirlSkateboards. In 1999, Blabac joined friends Ken Block andDamon Way and helped to shape the image of their rapidlyexpanding skate shoe company, DC Shoes. J. Grant Brittain is a legendary skate photographer andfounding photo editor of The Skateboard Mag, a groundbreakingpublication he helped launch in 2004, andTransWorld SKATEboarding, the largest circulation skateboardingmagazine in the world. Over his career, Brittain hascaptured nearly all of the best skateboarders of the lastthree decades in hundreds of classic photographs. Jake Phelps is the longtime editor of Thrasher magazineand one of the most colorful characters in the skateboardingindustry. Never one to shy away from controversy, Phelpsembodies his magazine's f*** you attitude, maintainingthat skateboarding is an art and a lifestyle without rules orauthority figures to decide what is right or wrong.