Surf Flex: Flexibility, Yoga, and Conditioning for the Ultimate Surfing Experience! (Paperback)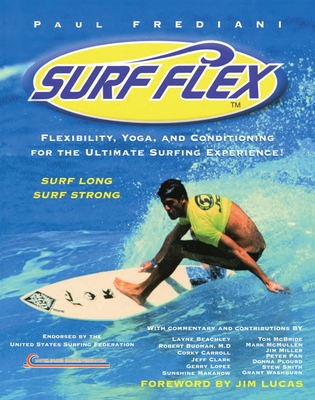 Description
---
No other sport requires more agility and flexibility than surfing. Wiping out is no fun and a solid flexibility program will help prevent injuries and keep you surfing longer and stronger.

Paul Frediani, top trainer and fitness and conditioning advisor to the U.S. Surf Team, has designed an innovative series of exercises and stretches specifically tailored for surfers. From balance work and yoga, to strength training and cardiovascular endurance, Surf Flex provides both amateur and professional surfers alike with a powerful fitness program.

Surf Flex provides solid information on a variety of topics including:

·Stretching and flexibility routines
·Yoga for surfers
·Interval training and endurance workouts
·Advanced balance training
·Prevention and treatment of coming surfing injuries

And, of course, the famous Surf Flex Workout–a unique form of training that will challenge your strength, endurance, and balance while you develop your core muscles (abs, back, hips). You can do the Surf Flex Workout at the beach when the waves are flat or at home.
About the Author
---
PAUL FREDIANI is certified by the American College of Sports Medicine as a medical exercise specialist and is a continuing education provider for the American Council on Exercise. Paul began his path in fitness at the age of 12, surfing the chilly waters off the San Francisco coast. He later became the San Francisco Golden Gloves and Pacific Coast Diamond Belt Light Heavyweight Boxing Champion. An Elite+ trainer at Equinox Fitness Club in New York City, Paul has written several books on fitness and has appeared nationally on television and in print.