The Ultimate Guide to Video Game Writing and Design (Paperback)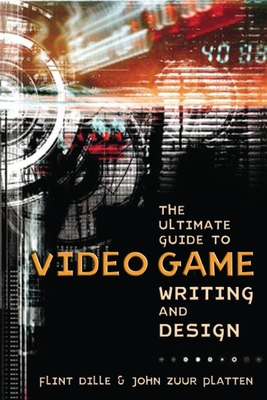 $19.95

Usually Ships in 2-3 Days
Description
---
• Authors are top game designers

• Aspiring game writers and designers must have this complete bible



There are other books about creating video games out there.
Sure, they cover the basics. But The Ultimate Guide to Video Game Writing and Design goes way beyond the basics. The authors, top game designers, focus on creating games that are an involving, emotional experience for the gamer. Topics include integrating story into the game, writing the game script, putting together the game bible, creating the design document, and working on original intellectual property versus working with licenses. Finally, there's complete information on how to present a visionary new idea to developers and publishers. Got game? Get The Ultimate Guide to Video Game Writing and Design.
About the Author
---
Flint Dille is an American writer and game designer. He is best known for his animated work, including Transformers, G.I. Joe, and An American Tail: Fievel Goes West. He has also written for games, including The Chronicles of Riddick: Escape from Butcher Bay and Dead to Rights. He is the author with John Zuur Platten of The Ultimate Guide to Video Game Writing and Design.

John Zuur Platten began his career at Universal Studios, working as a production coordinator on a number of series including Lassie and Harry and the Hendersons. He currently works in games and interactive media, and was the producer, lead designer, director, and writer for the Eidos video game Fear Effect. He lives in California.