Candy Bomber: The Story of the Berlin Airlift's "Chocolate Pilot" (Hardcover)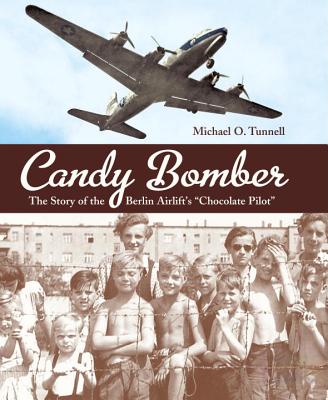 Description
---
After World War II the United States and Britain airlifted food and supplies into Russian-blockaded West Berlin. US Air Force Lieutenant Gail S. Halvorsen knew the children of the city were suffering. To lift their spirits, he began dropping chocolate and gum by parachute.

Michael O. Tunnell tells an inspiring tale of candy and courage, illustrated with Lt. Halvorsen's personal photographs, as well as letters and drawings from the children of Berlin to their beloved "Uncle Wiggly Wings."
About the Author
---
Michael has served on the Newbery Award Committee and on the selection committee for the NCTE Award for Excellence in Poetry for Children. He has also published many professional books, including THE STORY OF OURSELVES: TEACHING HISTORY THROUGH CHILDREN'S LITERATURE (Heinemann) and CHILDREN'S LITERATURE, BRIEFLY (Prentice Hall), and has written articles for a variety of educational journals. He and his wife, Glenna, live in Orem, Utah. They have four grown children.