Vertical Aid: Essential Wilderness Medicine for Climbers, Trekkers, and Mountaineers (Paperback)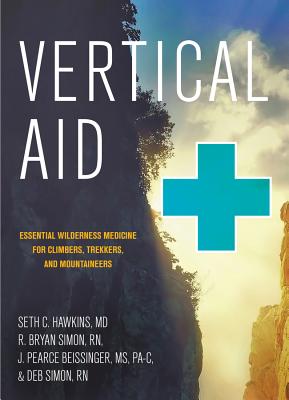 Description
---
A climbing medicine and wilderness first aid guidebook from a team of proven experts
Climbing and mountaineering attracts millions of people around the world each year, but produces a unique set of challenges. The threat of danger is ever present, and professional medical help is often far away. Vertical Medicine Resources is a renowned climbing company providing medical training and consultation. In
Vertical Aid
, they have produced the most complete guide available for managing both emergencies and chronic injuries sustained during climbs. Researched and developed by professional healthcare providers and alpinists, the book includes helpful illustrations of common procedures and best practices, making it a practical and indispensable companion on any climbing, trekking, or alpine trip. It is replete with real-world-tested strategies, evidence-based medicine, and proven techniques. The diverse author team combines an EMS and emergency physician, a nurse, a physician assistant, and a nurse-trainer, who together have a profound depth of climbing, educational, and medical experience. With its unique combination of authoritative medical information and specific attention to the climbing environment,
Vertical Aid
is poised to become an authoritative resource for every climber, on every climb.
About the Author
---
Seth C. Hawkins, MD, is a mountaineer and emergency physician board-certified in both emergency medicine and EMS, and serves as Chief of the Appalachian Mountain Rescue Team. He is co-owner of Vertical Medicine Resources, an innovative consulting company specializing in medical crisis training in isolated, vertical environments. He lives at the base of Linville Gorge in North Carolina.

R. Bryan Simon, RN, is co-owner of Vertical Medicine Resources. He is a former Army infantry captain, a graduate of the US Army Ranger School, and currently serves as an editor of Accidents in North American Climbing. He is an American Mountain Guide Association-certified climbing instructor who lives and guides on the rim of the New River Gorge in West Virginia.

J. Pearce Beissinger, MS, PA-C, is a certified American Mountain Guide Association climbing instructor and co-owner of Vertical Medicine Resources. He lives in Portland, Oregon. When he's not climbing throughout the Cascades, he serves as a responder with Portland Mountain Rescue.

Deb Simon, RN, is a certified fitness trainer, nutrition specialist, and holds a Masters degree in Mountain Medicine. She is also co-owner of Vertical Medicine Resources and specializes in high altitude fitness. She resides along the cliffs of the New River Gorge in West Virginia.
Praise For…
---
By far the most updated medical information related to mountain travel.
— Rescue Climber Mountain Guides