The Wonder of Boys: What Parents, Mentors and Educators Can Do to Shape Boys into Exceptional Men (Paperback)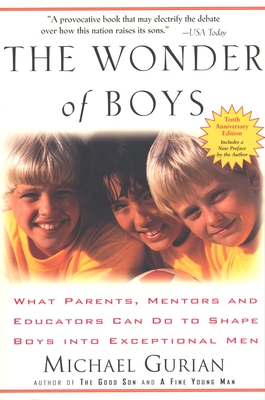 Description
---
"THE WONDER OF BOYS is a provocative book that electrifies the debate over how this nation raises sons." 
— USA Today

 In this insightful and practical book, Michael Gurian describes what boys need to become strong, responsible, sensitive men. Instead of encouraging us to stifle boys' natural propensities for competition and aggression, Gurian offers effective and practical guidelines for channeling them. He shows how the evils boys are susceptible to, including gang activity, sexual misconduct, and crime, become necessary outlets when positive role models and adult support are not available.

Most important, Gurian explains what a boy really needs--a primary and an extended family, relationships with mentors, and intense support form his school and community--and details how we can provide these things for the boys we love.
 
About the Author
---
Michael Gurian is a psychotherapist and bestselling author whose books include The Wonder of Boys and The Good Son. His work reflects the diverse cultures (European, Asian, Middle Eastern, and American) in which he lived, worked, and studied. He has taught psychology, religion, mythology, and literature at three American universities and at Ankara University in Turkey. He lives with his wife and two children in Spokane, Washington.
Praise For…
---
"THE WONDER OF BOYS is a provocative book that electrifies the debate over how this nation raises sons." 
— USA Today
"Full of good insights and advice."
— Los Angeles Times

"THE WONDER OF BOYS will help future generations open the lines of communication between men and women by giving us what we need to raise strong, responsible and sensitive men. 
— John Gray, author of MEN ARE FROM MARS, WOMEN ARE FROM VENUS.
"Writing in a calm, compassionate voice, Gurian delivers a compelling call to action."
— Publishers Weekly

"What Mary Pipher has done to raise our national consciousness in her book REVIVING OPHELIA, Michael Gurian has done in THE WONDER OF BOYS." 
— Betty B. Youngs, author of HOW TO DEVELOP SELF ESTEEM IN YOUR CHILD