The King's English: Adventures of an Independent Bookseller (Hardcover)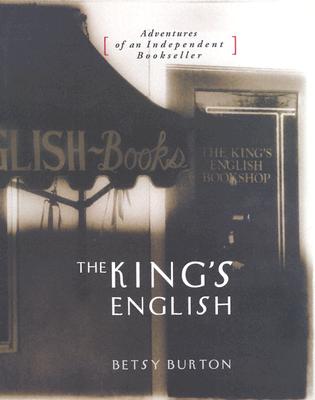 $24.95
Email or call for price.
Description
---
Betsy Burton, owner of The King's English bookstore in Salt Lake City, has been a bookseller for nearly thirty years, and a passionate book lover all her life. Her modestly sized, yet widely respected, shop has hosted authors such as E. L. Doctorow, Isabel Allende, John Updike, Margaret Atwood, and Sue Grafton, and she has built a reputation as a passionate purveyor of the written word in a world where stores like her's are a dying breed.
Burton now shares her story, including the amusing trials and triumphs of author visits, attempts at censorship, the modern business of bookselling, and the complexities of staying afloat as an independent in the world of chains and superstores.
Burton also offers dozens of "Top 25" reading lists on a multitude of topics, from psychology to poetry, fiction, business, and the best banned books. Burton has also painstakingly collected favorite reading lists from the best independent bookstores throughout the country, including the Tattered Cover in Denver and Powell's Books in Portland, sharing what some of the best-read folks in the country currently can't put down. Filled with wit, passion, and a strikingly independent message, Burton's story will delight booklovers of all kinds.
Betsy Burton is the owner of The King's English Bookstore, founded in 1977 in Salt Lake City. An avid reader and lover of literature, she is passionate about keeping independent bookstores alive and well in the world. She was named bookseller of the year in 2001 by Mountains and Plains Booksellers Association, has done countless book reviews for radio, television, and print media, and writes for and edits The Inkslinger, a literary newsletter.