Swim, Bike, Run, Eat: The Complete Guide to Fueling Your Triathlon (Paperback)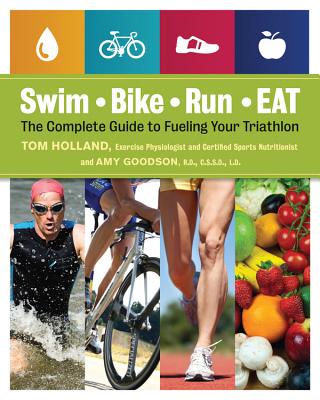 Description
---
It's race day and you have your quick-closure running shoes, sleek suits, bikes, goggles, and watches, but if you haven't been training with the proper nutrition, you'll be left in the dust in the third mile. Enter Swim, Bike, Run--Eat to guide you from day one of training to the finish line and help your body perform at it's peak of fitness. In this book, author Tom Holland joins up with sports dietitian Amy Goodson to cover race-day essentials, food choices to complement your training regimen, as well as recovery nutrition. Learn how to determine what to eat; what to drink; how many calories to consume each day; whether or not to carry snacks while training; the difference between taking in calories from solid foods, semi-solids, and liquids; and whether or not to take electrolyte or salt tablets.This books is the ideal companion to Holland's The 12-Week Triathlete. Casual and core triathletes alike require a nutrition guide that is easy to understand with expert advice that is easy to implement. Look no further and get ready to take your triathlon to a new, healthier level.
About the Author
---
Tom Holland, author of The 12-Week Triathlete and Marathon Method is an exercise physiologist who has coached thousands of people to reach their fitness goals; from losing weight to climbing mountains, running marathons and completing Ironman triathlons. He received his BA in Communications from Boston College and his Master's Degree in Exercise Science and Sports Psychology from Southern Connecticut State University.Tom designed and stars in the fitness videos Tom Holland's Total Body Workout, Tom Holland's Total Body Workout II & Tom Holland's Total Ab Workouts. He is the host of the new 11-DVD fitness program Supreme 90 Day as well and the Abs Diet Workout. He has sold more than 1 million fitness DVDs to date. Tom writes for various media and has been published in such magazines as Self, Fit, The Journal of the American Athletic Association, Inside Triathlon, Running Times and IDEA Personal Trainer. Tom has appeared as a fitness expert on NBC, CNN Headline News, and ABC's Good Morning America. He is a highly sought-after presenter, lecturing on various fitness topics for such organizations as the Gatorade Sports Science Institute, The American Medical Athletic Association, and More Magazine. Tom is on the advisory board of Oxygen magazine and is a frequent contributor to magazines including Self, Fitness, Hers, More, Cosmopolitan, Family Circle, Bride's, Men's Health, Newsweek, Men's Fitness, Muscle Media, Oxygen, Organic Style, and Cooking Light.
Amy Goodson, MS, RD, CSSD, LD is a board-certified specialist in sports dietetics. She is the sports dietitian for Ben Hogan Sports Therapy Institute and TCU Athletics. She has been sports dietitian for the Dallas Cowboys, Texas Rangers, and FC Dallas, and has worked with star athletes from multiple sports. Goodson obtained her Masters in Exercise and Sports Nutrition in 2006 while also obtaining her registration and license to become a registered dietitian. Goodson joined the TCU Team in August of 2006 as the first sports dietitian for TCU and works with all teams. She gives sports nutrition talks, consults with individual athletes, plans pre/post-game meals for teams, writes training table menus, and is working on a variety of sports nutrition resources for athletes. As a member of the Ben Hogan Sports Therapy Institute team Goodson works with high school athletes, speaks to community groups and booster clubs, and works with adult athletes. She also teaches undergraduate nutrition courses for Texas Woman's University in Denton, TX. Goodson is a member of the American Dietetic Association, Texas Dietetic Association, and SCAN (Sports, Cardiovascular, and Wellness Nutritionists).
Praise For…
---
*Starred Review "This book speaks to the importance of proper body fueling during a triathlon and covers four key components: an understanding of basic nutrition, fueling during training and during an actual race, and well-planned recipes. Holland and Goodson (an exercise physiologist and sports dietitian, respectively) frame nutrition as the fourth discipline of the triathlon and delve into a discussion of the types of nutrients one can use€"proteins, carbohydrates, and fats€"and how often. Helpful tips are sprinkled throughout this nutritional section and interspersed in the rest of the volume. Sidebars debunk common myths and provide tidbits about common race fuels, such as the ever-popular Gatorade. The training and racing chapters feature the authors' previous mishaps and offer concrete plans for triathletes to follow with respect to carrying fuel during a race, what to eat on race morning, fueling for various distances, and much more. VERDICT A great review of nutrition and fueling for both novice and experienced triathletes. The authors make a complicated subject accessible for anyone interested in training for a triathlon. Photos, colorful sidebars, and a handy index contribute to this being a must-have for triathletes of all ages and skill sets." €"­ Library Journal
"One of the top ten trainers in the United States." - Women's Health on Tom Holland
"As a race director, I have seen countless numbers of athletes on the race course walking or in nutritional distress as a result of not putting as much emphasis on their nutritional strategy as they had on their swim, bike, and run training. This book is a great tool and reminder that there is a fourth discipline to triathlon - nutrition." - Eric Opdyke, Rev3 National Race Director