A Wrestling Life: The Inspiring Stories of Dan Gable (Paperback)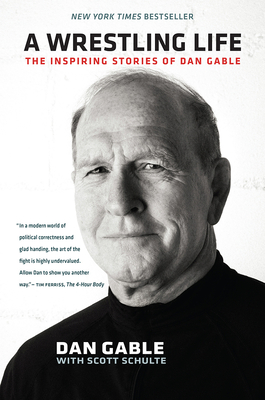 Description
---
What does it take to be an Olympic gold medalist and to coach a collegiate team to fifteen NCAA titles? In A Wrestling Life: The Inspiring Stories of Dan Gable, famed wrestler and wrestling coach Dan Gable tells engaging and inspiring stories of his childhood in Waterloo, Iowa; overcoming the murder of his sister as a teenager; his sports career from swimming as a young boy, to his earliest wrestling matches, through the 1972 Olympics; coaching at the University of Iowa from the Banachs to the Brands; life-changing friendships he made along the way; and tales of his family life off the mat. A celebration of determination, teamwork, and the persevering human spirit, A Wrestling Life captures Gable's methods and philosophies for reaching individual greatness as well as the incredible amount of fulfillment and satisfaction that comes from working as part of a team.

Whether we are athletes or not, we all dream of extreme success and are all looking to make our future the best it can be, but along the way we will undoubtedly need time to recover and rejuvenate. Let these stories inspire you to find your path to strength and achievement along whatever path you take.

About the Author
---
Dan Gable has been named to several Halls of Fame including the USA Wrestling Hall of Fame, the US Olympic Hall of Fame, the National Wrestling Hall of Fame, and is the namesake of the National Wrestling Hall of Fame Dan Gable Museum in Waterloo, Iowa. In 2002, he was appointed to the President's Council on Physical Fitness and Sports. He has been named the top wrestler of the 20th Century by Gannett News Services, is listed as one of the top coaches of the 20th Century by ESPN, and is named Iowa's top sports figure in the past 100 years. In 1996, Gable was named one of the "100 Golden Olympians," an honor bestowed to the top 100 U.S. Olympians of all time. During the 2012 Olympics, he was inducted into the FILA Hall of Fame Legends of the Sport category, becoming one of three people in the world to receive this honor. He resides in Iowa City, Iowa, with his wife Kathy.
 
Born and raised in Connecticut, Scott Schulte has been a fan of Dan Gable his entire life. He enjoyed success as a high school wrestler and runner and as a high school wrestling and track coach for many years. The father of two sons and two grandchildren, he is a professional writer. He lives in Milford, Connecticut.

Praise For…
---
"Dan Gable has been called 'Sports Figure of the Century' by Sports Illustrated. If you've never heard of him (or even if you have), you're in for a treat. A Wrestling Life details Gable's most profound triumphs and disappointing losses, both on the mat and off. He's been a primary inspiration to me since I was 15, and this book will show you why. In a modern world of political correctness and glad handing, the art of the fight is highly undervalued. Allow Dan to show you another way."—Tim Ferriss, author, The 4-Hour Body

"The stories in A Wrestling Life offer keen insight into how, beginning at a very young age, Dan Gable was able to use personal achievement, adversity, and even tragedy as motivation to reach the highest levels of success and to have a profound affect on those around him. Gable's love and commitment to his family, teammates, teams, and friends jumps out in story after story. As a high school and college wrestler I wanted to wrestle for Dan Gable. Now I know why!"—Mike Golic, ESPN broadcaster, NFL player, Notre Dame football player and wrestler


"A Wrestling Life shows readers not only how Dan Gable cultivated the 'Iowa Way' to becoming a world-class athlete, but how he became the man behind the athlete. Through his unwavering commitment to teamwork and using the hardships in his life to fuel his unparalleled work ethic, he has truly been earned his place as the godfather of Iowa sports."—Nate Kaeding, former Iowa Hawkeye and NFL football player


"Coach Gable is the best mentor a person could ever have in their lives."—Tom Brands, head wrestling coach, University of Iowa


"No one is a better motivator than Gable and that is a huge part of the success of Iowa wrestling."—Lou Banach, 1984 Olympic gold medalist