Hatcher's Notebook: A Standard Reference Book for Shooters, Gunsmiths, Ballisticians, Historians, Hunters, and Collectors (Paperback)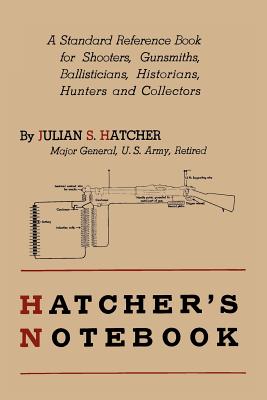 Email or call for price.
Usually Ships in 2-3 Days
Description
---
2012 Reprint of 1948 Edition. Exact facsimile of the original edition, not reproduced with Optical Recognition Software. Profusely illustrated. This book is still a classic in the early development of applied ballistics. Much of the information contained within this book is still relevant to many of today's firearms and their use. It is recommended for any serious technical shooter or amateur ballistician. It is a classic reference by a renowned expert. Invaluable information for shooters, gunsmiths, collectors, ballisticians, and hunters. Starting with the '03 Springfield and '17 Enfield, this authoritative guide describes the development of automatic and semiautomatic weapons, explaining how they work, barrels and experiments with obstructions, strengths and weaknesses of military rifles, receiver steels and heat treatment, headspace, recoil problems, gunpowder, corrosion, triggers, and the Pederson Device. It also covers noted gun makers, tips to match ammunition, interior and exterior ballistics, velocity variation, measuring methods, weights, overloads, and ranges.