Monsters Beware! (The Chronicles of Claudette) (Paperback)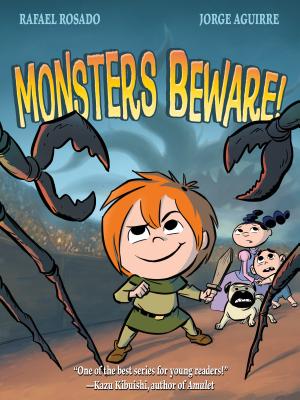 List Price: $15.99
Our Price: $14.99
(Save: $1.00 6%)
Description
---
Claudette is back AGAIN, and shes ready to kick major monster butt!

Shes fought giants, clobbered dragons, and now Claudette faces her biggest challenge yet herself! Well, that and a gang of vile monsters. It all begins when Claudettes town hosts the annual Warrior Games. After some sneaky maneuvering, Claudette manages to gets herself, Marie, and Gaston chosen as her town's representatives. But none of Claudettes past battles has prepared her for this. And to make matters worse, they must stop the vicious Sea Queen and her evil children from using the Warrior Games to free the dark Wizard Grombach and conquer the world!

In Monsters Beware!, the third and final book of the Claudette graphic novel series, Claudette is put the ultimate test. With her honor on the line will she learn that there's more to a fight than just winning?
About the Author
---
Born in Puerto Rico and based in Columbus, Ohio, Rafael Rosado is a seasoned writer, director and storyboard artist for the animation industry. He began his career at Character Builders in Columbus, Ohio as an assistant animator. He quickly worked his way up to become a character designer, storyboard artist and commercial director. During his tenure there he worked on such shows as Fox's Emmy Award-winning Life With Louie, HBO's Happily Ever After and Fox's Where in The World Is Carmen San Diego.

After leaving Character Builders in 1994, Rafael went to work for Warner Brothers Animation, storyboarding on Pinky and The Brain and Emmy nominated Animaniacs, for which he also wrote two episodes.

He was the recruited by the newly-founded Sony Television Animation division, where he worked on eleven shows including directing episodes of CBS's Project GeeKeR and NBC's Sammy. He was promoted to Supervising Director on Extreme Ghostbusters and Producer on Men In Black: The Animated Series.

After 5 years honing his skills in Los Angeles, Rafael moved back to Ohio to raise his family. He is now one of the most highly sought-after storyboard artists, working for major studios such as Warner Brothers, The Walt Disney Company, Sony, Universal and the Cartoon Network. Highly diverse, he has storyboarded on action, comedy and pre-school shows, shows as diverse as Boondocks, Teenage Mutant Ninja Turtles, The Batman, The Venture Brothers and Curious George.

Rafael's first graphic novel, Giants Beware!, was published by First Second Books in early 2012. His short film The Tortured Clown was acquired by and featured on the Sundance Channel.
Jorge Aguirre
is a Colombian-American from Columbus, Ohio. Hes written for everything from the most popular childrens shows to documentaries about Romanian exorcisms. He is the author of
Giants Beware!
He lives on the East Coast.
Praise For…
---
Praise for The Chronicles of Claudette series:

"These stylish books there are three so far are called Giants Beware!, Monsters Beware! and Dragons Beware!, and they are just the thing for kids who like fractured fairy tales."New York Times


Praise for Monsters Beware!:

"[Monsters Beware!] plays out with energy and charm in Rosados swift, modern cartooning... the story never loses sight of the fact that friendship trumps winning, intelligence and diplomacy have their place in victory, and that its not just shape but intention that makes a monster."Booklist