100 Things Jazz Fans Should Know & Do Before They Die (100 Things...Fans Should Know) (Paperback)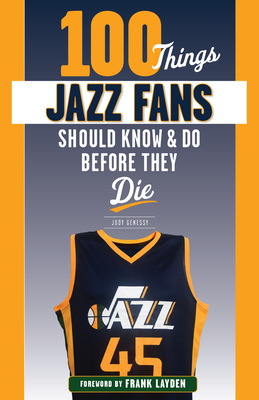 $16.95

Usually ships to store in 2-3 Days
Description
---
With traditions, records, and lore, this lively, detailed book explores the personalities, events, and facts every Jazz fan should know. It contains crucial information such as important dates, behind-the-scenes tales, memorable moments, and outstanding achievements by players like John Stockton, Karl Malone, Mehmet Okur, and Adrian Dantley. Whether you're a lifelong supporter from the early days in Salt Lake City or a more recent fan, this is the ultimate resource guide for all Jazz faithful.
About the Author
---
Jody Genessy is an award-winning journalist who covers the Utah Jazz for the Deseret News in Salt Lake City, Utah. He has been with the paper since 1995, writing about everything from high school and college sports to Olympic hockey. This is his first book.

Frank Layden is a former head coach and general manager with the Jazz organization.He resides in Salt Lake City, Utah.