Now What?: A Guide to the Gifts and Challenges of Aging (Paperback)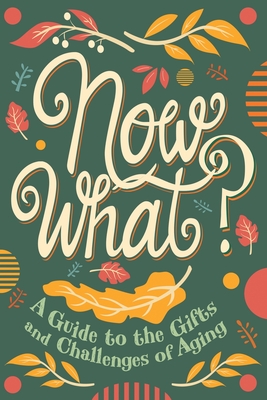 $19.99
Usually Ships in 2-3 Days
Description
---
"Now what?" Millions of us ask this question as we, or our parents or grandparents, suddenly face an age-related challenge. We need fast answers. In this book, experts provide practical advice, including how to form a caregiving team, ensure home and online safety, maintain mobility and support independence. The writers also emphasize the gifts of aging, including deepened relationships and new opportunities to give back to our communities. The book is written so that aging individuals, their families and caregivers can read it and find solutions together.
"An amazing feature of this volume is its ability to address both caregivers and those in need of support, fellowship and aid to improve quality of life," Robert J. Wicks, the author of many books about resilience, writes about this new book. "You will be so much better prepared to live a full life more sagely and enjoyably with less unnecessary worry, and guide others in the process as well."
Lucille Sider, author and psychologist, urges "churches and community groups to give two books to each family, one for the senior and one for a friend or relative, so that an entire family can read this book together."
Chapters are helpfully divided into 23 topics, encouraging readers to immediately jump into sections that are most relevant. This is "a comprehensive how-to manual for successful aging and living a full life," writes Wayne Baker of the Center for Positive Organizations at the University of Michigan Ross School of Business.
Among the 23 chapters are:
● You Are Not Alone: Connecting in healthy ways with our community
● Our Allies: Organizing a successful team
● Our Gifts: All of us have strengths that give our lives meaning
● Our Service: Using our unique talents to create meaningful change
● Saging, Not Aging: A transcultural perspective on our gifts as we age
● Going Online: Safety connecting with friends and family on social media
● Caring for Our Caregivers: More than 50 million Americans devote their lives to our care
● Connecting with a Congregation: Joining a congregation is a healthy step
● Mobility Matters Should we stop driving? And, if we do, what now?
● Home Safe Home: Making sure "home" equals "healthy"
● Emergency Preparedness: A 10-point safety list to help you sleep soundly
● Don't Throw that Away Downsizing and the challenges of hoarding
● Hidden Challenges and Helplines: Identifying easily overlooked issues before they become crises
● A Trip to the Doctor: Plan ahead to make the most of your healthcare team
● Directing Our Care: Advance directives, power of attorney, living wills and DNRs
● Enjoying Life: Having fun is healthy
● What Is Hospice Care? Finding comfort and peace at the end of life
This book was created through efforts of the Agencies United for Healthy Aging collaborative.