Pool Maintenance Log: Swimming Pool Owners Check List, Cleaning Information, Test Water Tracking, Book, Personal or Business/ Client, Pools (Paperback)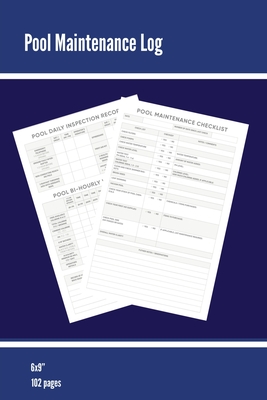 $19.99
Usually Ships in 2-3 Days
Description
---
This home Pool Maintenance Log journal is a great way to keep all your important information about your pool all in one place and ensure you don't forget anything, record any problems, repair needs, essential measures for maintaining your pool, etc. The interior includes prompts and space to record:
Check List - Filter, pumps, temperature, testing water level, pH, chlorine, clean & check skimmer/ baskets, brush sides, leaf skimming, vacuum pool, stock of chemicals, first aid supplies, check fences & gates, overall water clarity
Items Purchased
Items Needed To Purchase
Notes & Further Observations Sections
Daily Inspection Record
Bi-Hourly Water Tests
Logbooks & books are a perfect gift. Size is 6x9 inches, 102 pages, quality white paper, soft matte finish cover, black print, paperback.