Hangdog Days: Conflict, Change, and the Race for 5.14 (Paperback)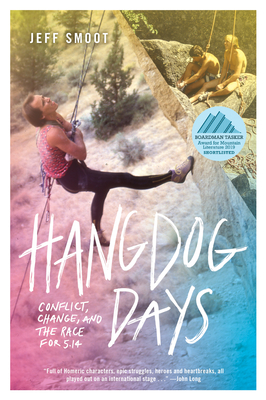 Description
---
2019 Banff Mountain Book Competition Category Finalist in Mountain Literature2019 Boardman Tasker Award for Mountain Literature Finalist
If you climbed during that era, you'll turn each page eagerly to find out what happens next (even though you know). If you didn't, you'll likely do the same.... In many ways,
Hangdog Days
reads as the great American climbing novel. Smoot accepts Todd Skinner]'s call to join him, and brings us along. -Gripped
Fast-paced history-cum-memoir about rock climbing in the wild-and-wooly '80s
Highlights ground-breaking achievements from the era
Hangdog Days
vividly chronicles the era when rock climbing exploded in popularity, attracting a new generation of talented climbers eager to reach new heights via harder routes and faster ascents. This contentious, often entertaining period gave rise to sport climbing, climbing gyms, and competitive climbing--indelibly transforming the sport. Jeff Smoot was one of those brash young climbers, and here he traces the development of traditional climbing "rules," enforced first through peer pressure, then later through intimidation and sabotage. In the late '70s, several climbers began introducing new tactics including "hangdogging," hanging on gear to practice moves, that the old guard considered cheating. As more climbers broke ranks with traditional style, the new gymnastic approach pushed the limits of climbing from 5.12 to 5.13. When French climber Jean-Baptiste Tribout ascended To Bolt or Not to Be, 5.14a, at Smith Rock in 1986, he cracked a barrier many people had considered impenetrable. In his lively, fast-paced history enriched with insightful firsthand experience, Smoot focuses on the climbing achievements of three of the era's superstars: John Bachar, Todd Skinner, and Alan Watts, while not neglecting the likes of Ray Jardine, Lynn Hill, Mark Hudon, Tony Yaniro, and Peter Croft. He deftly brings to life the characters and events of this raucous, revolutionary time in rock climbing, exploring, as he says, "what happened and why it mattered, not only to me but to the people involved and those who have followed.