The Total Gun Manual (Paperback Edition): 368 Essential Shooting Skills (Paperback)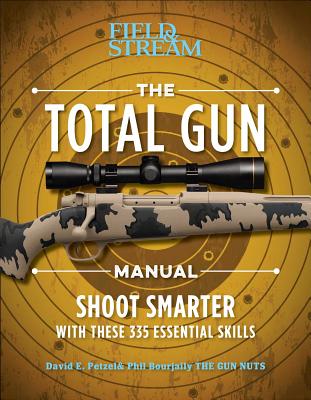 $16.99
Usually Ships in 2-3 Days
Description
---
This is the new trade paperback edition of Field& Stream's bestselling Total Gun Manual. Full of the same must-have information found in the full-size flexi edition: extensive guide to gun safety, shooting skills, gear available and more, this is a compete user's guide for gun owners and enthusiasts.

David E. Petzal and Phil Bourjaily, "The Gun Nuts", Field & Stream's shooting sports experts, are the top-rated writers working in the field today, due to their knowledge, experience, and their ability to communicate even complicated topics with clear, simple language and a dry and engaging wit.

Contents include:

Gun basics: Getting started, gun safety, choosing the right gun, and more.

Handguns: Expanded handgun section covers range, target, and indoor shooting for the casual enthusiast and the serious shooter.

Rifles: Whether for hunting or target practice, David Petzal has decades of experience and expertise, and shares it all with his trademark sense of humor.

Shotguns: Phil Bourjaily is a year-round hunter as well as coaching clay and skeet shooting teams, so he knows his shotguns and how to impart tips and tricks.
About the Author
---
David E. Petzal, the rifles field editor of Field & Stream, has been with the publication since 1972. He served in the U.S. Army from 1963 to 1969, and he began writing about rifles and rifle shooting during his service in 1964. He is a Benefactor Member of the National Rifle Association and a Life Member of the Amateur Trapshooting Association. He has hunted all over the United States and Canada, as well as in Europe, Africa, and New Zealand. Petzal wrote The .22 Rifle and edited The Encyclopedia of Sporting Firearms. In 2002, he was awarded the Leupold Jack Slack Writer of the Year Award, and in 2005 he received the Zeiss Outdoor Writer of the Year Award, making him the first person to win both.

Phil Bourjaily sold his first outdoor story—on snipe hunting—to Field & Stream in 1985. Today, he is the magazine's Shotguns columnist and co-writer, with David Petzal, of the "The Gun Nut" blog on Fieldandstream.com. He is the author of the Field & Stream Turkey Hunting Handbook and, as a turkey hunter, has renounced early mornings in favor of sleeping in and killing spring gobblers between the hours of 9 a.m. and 2 p.m. He makes his home, with his wife and two sons, in his birthplace of Iowa City, Iowa.

Field & Stream is "The World's Leading Outdoor Magazine." Devoted to the complete outdoor experience and lifestyle, Field & Stream gives its readers the knowledge and inspiration to pursue the sports they love. The brand celebrates the outdoor experience with great stories, compelling photography and sound advice, while honoring the traditions hunters and fishermen have passed down for generations.