Tales from the Oakland Raiders Sideline: A Collection of the Greatest Raiders Stories Ever Told (Tales from the Team) (Hardcover)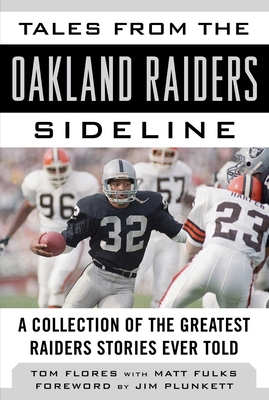 Description
---
Coach Tom Flores shares tales of two Super Bowls and Raiders greats such as Billy Cannon, Jim Otto, John Matuszak, Bo Jackson, and more. Without a doubt this is a must-have for any Raiders fan.

It's almost impossible to talk about Oakland football without bringing up the name of the consummate Raider, Tom Flores. Legendary for both his skills on the field and his coaching guidance from the sideline, Flores has been an integral part of the Raiders organization since its inception in 1960.

Now Flores shares the greatest stories and anecdotes from his time with the team in the newly updated edition of Tales from the Oakland Raiders Sideline. Flores relives the heart-stopping thrills and adrenaline-surging passion of Super Bowl XV and Super Bowl XVIII, and provides behind-the-scenes humor from greats such as former coach and owner Al Davis and coach Eddie Erdelatz.
About the Author
---
Tom Flores has spent more than fifty-five years in the NFL in various capacities. He played for the Oakland Raiders from 1960 to 1966, the Buffalo Bills (1967–68), and the Kansas City Chiefs (1969–70). He was an assistant coach for eight years and then was head coach of the Raiders from 1979 to 1987. He compiled a regular season record of 83-53-0 and led the Raiders to two Super Bowl championships. Tom then became the president and general manager of the Seattle Seahawks from 1989 to 1991, and general manager and head coach from 1992 to 1994. The 2017 season marks his twenty-first as a broadcaster on the Raiders Radio Network. He was nominated for the National Football Hall of Fame in 2001. Tom and his wife Barbara have twin sons, Mark and Scott, a daughter, Kim, and five grandchildren.
Matt Fulksstarted his journalism career while attending Lipscomb University in Nashville, Tennessee, when his baseball career was cut short due to a lack of ability. He is the author or coauthor of more than twenty-five books, including The Road to Canton with Marcus Allen. (More information is available at www.MattFulks.com.) Fulks lives in the Kansas City area with his wife Libby, their three kids, and two dogs named after Elvis.
Jim Plunkett was the 1970 Heisman Trophy winner out of Stanford. After graduating, he was drafted by the New England Patriots. He arrived in Oakland in 1978 and stayed with the Raiders until retiring in 1986, having led the team to two Super Bowl victories (XV and XVIII). Plunkett was named MVP of Super Bowl XV and won the 1980 NFL Comeback Player of the Year award.