Learning on the Left: Political Profiles of Brandeis University (Hardcover)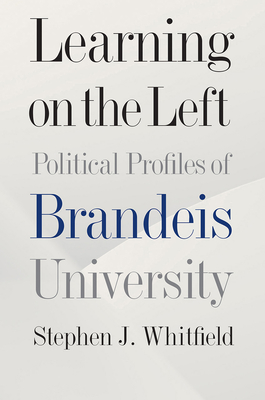 Description
---
Brandeis University is the United States' only Jewish-sponsored nonsectarian university, and while only being established after World War II, it has risen to become one of the most respected universities in the nation. The faculty and alumni of the university have made exceptional contributions to myriad disciplines, but they have played a surprising formidable role in American politics.

Stephen J. Whitfield makes the case for the pertinence of Brandeis University in understanding the vicissitudes of American liberalism since the mid-twentieth century. Founded to serve as a refuge for qualified professors and students haunted by academic antisemitism, Brandeis University attracted those who generally envisioned the republic as worthy of betterment.  Whether as liberals or as radicals, figures associated with the university typically adopted a critical stance toward American society and sometimes acted upon their reformist or militant beliefs. This volume is not an institutional history, but instead shows how one university, over the course of seven decades, employed and taught remarkable men and women who belong in our accounts of the evolution of American politics, especially on the left. In vivid prose, Whitfield invites readers to appreciate a singular case of the linkage of political influence with the fate of a particular university in modern America.
About the Author
---
Stephen J. Whitfield is professor emeritus of American Studies at Brandeis University.  He was also a visiting professor in Jerusalem, Paris, and Munich. Whitfield has authored eight other books, including In Search of American Jewish Culture, also from Brandeis University Press, and edited A Companion to 20th-Century America.
Praise For…
---
"Stephen Whitfield's group portrait of a large number of men and women of the Left who taught and studied at Brandeis from its inception at the end of the 1940s to the present is as attentive to the personalities of his subjects as it is to their ideas. A gifted, prolific, and celebrated scholar of American and American Jewish history, Whitfield earned his PhD at Brandeis, taught there for 44 years."
— The Jewish Review of Books

"This fascinating book of vignettes of figures who have shaped our times will appeal to readers of a certain age — and to their perceptive heirs. A welcome reminder in the age of Trump of the best in America."
— The Jewish Chronicle

"There is no other book quite like Learning on the Left in the historiography of American higher education.  Whitfield ... has provided a comprehensive, deeply researched, and readable history of the liberal and radical students and faculty who have had a relationship, albeit oftentimes tenuous, with Brandeis since its founding. The book reflects a lifetime of reading on American culture and politics. Of Whitfield's nine books, this is undoubtedly his finest as well as his longest, and no one was more suited to have written it. "No one could have anticipated in 1948 – the year that Brandeis University, America's only Jewish-sponsored non-sectarian university, opened its doors –that it would vault within a decade into the ranks of  America's leading academic institutions. The conventional explanation for Brandeis' founding is that its founders wished to provide an academic refuge for Jewish students and scholars denied entrance and  employment at other institutions because of anti-Semitism. Brandeis, one of its earliest graduates said, was "the Ellis Island of academe" (p. 50). This is why the principle of individual merit in the hiring of  faculty and the admission of students has always loomed so large at Brandeis, and why from its beginning it welcomed students and faculty from all races and religions."
— Society

"The distinguished historian Stephen J. Whitfield . . . is eminently qualified to write a study of this unique institution and the "considerable influence" its faculty and students have exercised in American politics (1). Named for the great jurist Louis Brandeis . . . he university epitomized a characteristically Jewish commitment to the liberal ideals of equal opportunity and social justice for which Brandeis fought."
— Society for US Intellectual History

"Stephen Whitfield has written a wonderful book . . . Rich in its insights and analysis, Learning on the Left should be read and enjoyed by anyone interested in the history of Brandeis University or, more generally, of higher education  and Jewish liberalism in America."
— Modern Judaism

"It is a remarkable story and Whitfield tells it...exceptionally well by linking it to a grander narrative and charting the evolution of postwar American liberalism...a work, finally, of such reach and distinction."
— Journal of American Studies

"Written by one of the nation's most prolific, influential, and respected historians of postwar America, Learning on the Left capaciously and compellingly explores the role that people associated with Brandeis University played in shaping the nation's Left in the three decades after the university's founding in 1948. In the vast literature on the history of American higher education there is, quite simply, nothing like this."
— Daniel Horowitz, author of forthcoming Entertaining Entrepreneurs: Reality TV's Shark Tank and the American Dream in Uncertain Times

"Filled with fascinating stories, this book shows how the faculty and students of Brandeis University influenced and were influenced by liberal and radical politics. Herbert Marcuse, Anita Hill, Irving Howe, Abbie Hoffman, Martin Peretz, Michael Walzer, Pauli Murray and a host of other remarkable individuals flow in and out of Stephen J. Whitfield's captivating pages. Learning on the Left explains how the official values of a university founded in 1948 to counteract antisemitism proved to be a fertile matrix for courageous truth-telling in countless domains, and a safe haven for political risk-taking."   
 
— David A. Hollinger, author of Science, Jews, and Secular Culture

"From the moment of its founding, Brandeis University and the modern progressive tradition have been intertwined. In this wonderful book, Stephen Whitfield brings alive the students and scholars who helped to define the Left out of their experience at this premier institution of higher education."
 
— Julian Zelizer, author of Burning Down the House: Newt Gingrich, the Fall of a Speaker and the Rise of the New Republican Party

"Rarely has a book about a college or university been as riveting—or such fun to read. Learning on the Left eschews the typical brick-and-mortar approach to trace the extraordinary impact of Brandeis, not yet a century old, upon the political movements, progressive reforms, and intellectual ferment of what we call 'modern liberalism.' How did Brandeis recruit such remarkable talent to a small, Jewish, nonsectarian institution? And why have so many of its graduates gone on to high-level careers in government, journalism, and academia? No one can better confront these questions than Steve Whitfield—the world-class historian and prize-winning teacher who spent his post-graduate years and professional life on the Brandeis campus. The result is a brilliant, shrewd, sometimes quirky journey into the soul of a very special place."
— David M. Oshinsky, author of Polio: An American Story, winner of Pulitzer Prize for History.

"Whitfield offers intellectual history on the highest level…[He] has offered a fine work, as fascinating as it is first-rate."
— The Historian