Tennis Score Book: Game Record Keeper for Singles or Doubles Play Tennis Racket and Ball (Paperback)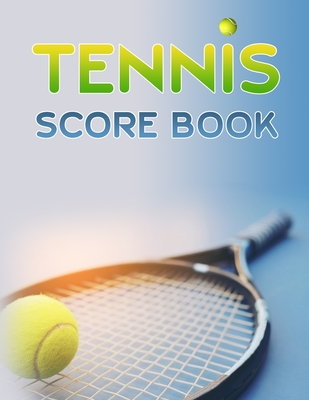 Description
---
A beautiful and practical Tennis Score Book where you can record your tennis marches or record and monitor your favorite players.
The perfect Notebook for a simple and efficient way to keep track of all your and your team scores. This Tennis Scorebook will save keep all your sheets with results and notes in one handy notebook. Right now Tennis is one of the most popular games in the world. the game has got worldwide popularity and is being played everywhere. And Tennis Game is very exciting. We know that the tennis game scoring can be a little complicated but with the help of our Tennis Scorebook Kepper, you can easily add the score in the notebook sheet.
Tennis Score Sheet Journal - Features:
Dedicated page for Name, Phone, and Email.
117 tennis sheets to record your scores and track your progress.
It contains both Single and Double competition with spots to note opponent and match scores.
Dedicated space on each page for all important information of the match: Date, Weather, Court Conditions, Home, League, Season, etc.
Printed on High Quality, Bright White paper.
Beautiful design Cover
LARGE size - 8.5" x 11"
Tennis game is easy to understand and its mechanics for scoring is based on the number of missed shot by the player inside the court line when you need a scorekeeper for the recording of points, tennis score sheet, Our Score Sheet Notebook it will help you to master this job. This Tennis Score Keeper contains many columns that can hold all the information related to the game. The columns are updated as the game continues. Tennis is played by millions of recreational players and is also a popular worldwide spectator sport. At the start of each page of this Tennis Score Sheet, the details related to the match are listed which are required before the match starts. The player who wins the maximum games in the match is considered to be the winner of the match. At the end of the sheet in this Tennis Score Book, checks that who has won the maximum number of games. The player who has won maximum games is considered to be the winner of the game and his name his written in the tennis sheet at the end.
Perfect for YOU or as a GIFT for anyone who loves Tennis.
Get it now, Champ